Story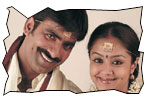 Sekhar (Ravi Teja) and Madhurima (Jyothika) are happily married couple who work for an advertising company. Nagesh (Subbaraju) and Divakar (Ravi Kale) are notorious encounter specialists. Due to some miscalculation, these encounter specialists shoot Sekhar on his shoulder thinking that he is a Maoist. Then they realize their mistake and frame him as Maoist by planting proofs. Lawyer Dharma Reddy (Kota) cheats on his client Sekhar and makes sure that he gets 8-year imprisonment. Madhurima meets Geeta (Tabu) - an investigative journalist from TV Media. As Madhurima and Geeta put some efforts to get clues, the encounter specialists threaten them. The rest of the story is all about how Sekhar takes his revenge.
Artists Performance
Ravi Teja suited the role which has the dimensions of family orientation and revenge seeking. He did extremely well in combination episodes with Jyothika. Jyothika is lovely as housewife and she is a treat to watch in sarees. Tabu did a vital role of an investigative journalist when lends hand to hero. Subbaraju and Ravi Kale are adequate as treacherous cops. Kota is impeccable as lawyer. Raghubabu is perfect as jail cop. Nagababu did the role of CBI officer. The comedy thread consisting Nagababu and Ram Jagan gives some comic relief in the second half. Brahmanandam's comedy is good though it's a small one. Raja Ravindra did a vital role of hero's cellmate.

Technical Departments: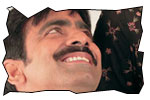 Story: Story of the film is different from the regular run-off-the-mill stuff we get these days. At the same time, this story is not a new one. It has got close resemblance to Naresh's film 'Hello Darling Lechi Podama' and Jagapati Babu's Manoharam. We have seen many films in which hero escapes from jail to seek revenge.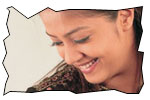 Screenplay - direction: Debutant director Harish Shankar is good in certain aspects. He manages to strike the right chords with husband - wife thread. He handles emotions and romance very well. But it comes to action episodes and revenge seeking scenes, he followed the routine Ram Gopal Varma's pattern in Bollywood films. It is not convincing how heroine signs on a suicide note when she knows in advance that she will be killed immediately. Director should have opted for straight narration in stead of inserting flashback episode of lead pair's romance in the second half. Technically he is pretty slick. Nonetheless, Harish Shankar shows promise with his debut film Shock.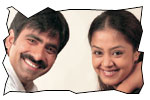 Other departments: There are only 4 songs in the film. Madhuram Madhuram song is the highlight. Music by Ajay - Atul is decent. Background music by Amar Mohale is good. Cinematography by Sarvesh is nice. There are certain nice shots like showing it from the top and then slowly gliding to the object. But he should have avoided violent movements of camera in the latter part of second half. Production values by RGV Factory are good. Dialogues by Kona Venkat are good in parts. Here is one nice conversation -
(conversation taking place in a restaurant)
Hero: Manaki puttaboye abbaiki maa mavayya peru Venkateswarlu pedadam.
Heroine: Ledu maa babai peru appa rao pedadam
Hero to bearer: ee rendu perlalo edi baguntundi?
bearer: rendu kalipi venkatappayya ani pettandi saar
hero: bhale solve chesavoy maa issue ni. nee perenti
bearer: Venkatappayya saar!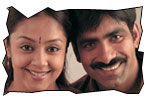 Analysis: First half of the film is neat. First half is driven completely as per the demand of script without going for commercial gimmicks. Second half lets you down. The revenge taking episodes are not dealt in interesting way. First half of the film offers something to the family crowds and the second half is action driven. The box office success of the film depends on how masses embrace it.
Shock Links
Premiere Show
Photo Gallery
Audio launch
Disc function
Wallpapers
Trailers
Abroad schedules
USA | Australia
Jeevi reviews of previous 5 films
Sarada Saradaga
Happy
Chukkallo Chandrudu
Lakshmi
Style
More Reviews