Story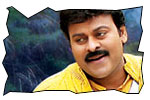 Stalin (Chiranjeevi) is an ex-military man who spends his time in helping people. He usually gets peeved that the apathy in the society and how it affects in turn. He wants to bring change in the society by implementing a simple formula of extending unconditional help to those are in need. The rest of the story is all about how he transforms the society with that simple formula.
Artists Performance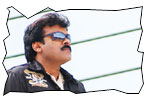 Chiranjeevi: Story of this nature needs an actor with lot of off screen influence. Chiranjeevi's reputation as man of social service helps the credibility of the character. Chiranjeevi did extremely well in emotional scenes. His dances in Parare and Tauba songs are very good. There is a good comedy episode with heroine in the beginning of second half.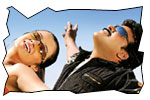 Others: Trisha is lovable in a small role and her comedy timing is good, as usual. But her role is not a part of the main story. Prakash Raj acted as a senior politician and he is good with Nellore dialect. Sunil steals the show with an emotional performance in climax. You will see different Sunil in that scene. Kushboo is neat as sister of hero. Mukesh Rushi and Pradeep Rawat are good in their roles. Sarada and Paruchuri Venkateswara Rao are adequate. Anushka did an item song.
Technical Departments: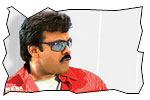 Story - screenplay - Direction: The basic thread of one helping three people is inspired by the Hollywood film 'Pay It Forward'. The director added a conflict thread in the form of Prakash Raj and made it sure that the 'pay it forward' concept converges with the villain thread in climax. The director Muruga Doss exploited the humanitarian angle very well. But he could not fuse other threads (sentiment and action) of the film in a convincing manner. The screenplay should have been better. There are certain episodes in the film that touches your hearts like the race of physically challenged people. At the same time there is a brainy action episode (well - oil tanker).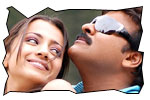 Other departments: Music by Mani Sharma is average. It sounds good on screen with visuals. I personally liked 'Siggutho Chichi' and 'Suryude' songs. The crowds liked 'Parare Parare' and 'Tauba Tauba'. Dialogues by Paruchuri brothers are adequate. Cinematography by Chota K Naidu is good except for a couple of scenes in fight sequences. Fights by Kanal Kannan are superficial with lot of threadwork. Producers Nagababu and B Madhu should be commended for coming up with a film that has social relevance and humanity aspect.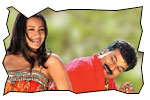 Analysis: First half of the film is pretty mediocre as there is no conflict thread in terms of villain. Second half is better from the moment villain enters the scene. The last 20 minutes of the film stands out with very good emotions. There are ups and downs in the film with logic missing in some scenes. The human element of altruism deserves an appreciation. Stalin stands as an example of how a good climax can change the fortune of a film. Stalin is worth a watch for humanitarian aspect and an emotional climax.
Stalin links
• Special News
• Audio Launch
• Audio Review
• Preview
• Photo Gallery
• Working Stills
• Posters
• Wallpapers
• Trailers
Andala Ramudu links
• USA
• UK
• Aus
• Singapore
Jeevi reviews of previous 5 films
• Andala Ramudu
• Bommarillu
• Amma Cheppindi
• Ashok
• Vikramarkudu
More Reviews