10 June, 2012
Hyderabad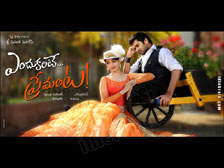 Endukante Premanta
Costumes: Shiva & Khadhar
Designs: Nishka
Endukante Premanta
Endukante Premanta has been the latest release of director Karunakaran. The fashion in this movie is trendy and the colourful costumes of the casting added an ambience to the whole movie. Lets get into the detail of fashion in this movie.
Ram:
In the starting of movie, the situation is a love story in 80's. The bell bottom pants, safari dresses and printed floral shirts are the key aspects that brought the look of 80's easily. The hippy hair style and thick framed glasses adds to it. In modern story, Ram plays a young boy with big family who was sent to Paris to study. He looks in hip hop style dresses in first song in which he looks most handsome. Chequered shirts with different shades are used by ram rather than plain checks like in previous movies. Compared to all movies, Ram looks stylish with latest accessories and trendy dresses. Ram appears in all kinds of styles at present youth is following. Songs are planned in a different way like he follows each trend in each song. Whites and blacks are used on most costumes. Ram wears hooded shirts and blazers with inner t-shirts which are printed ones. Denim blazers, hooded blazers and leather blazers are all used. Hooded style is followed throughout movie. Shoes are used in contrast colour to his dresses which added more brighter look. Retro kind of goggles added the extra look to his appearance. Torn jeans have become a regular these days but he used torn only in one song in a single shot while he wears mostly shaded jeans throughout. Ram looks very handsome in first song with trendy costumes.
Tamanna:
Tamanna plays a role of a medico in Paris. In the entire movie, she wears only one costume i.e. Cream colour top with orange floral print skirt. The only costumes she tried were in the songs. Appearance of Tamanna in modern dresses after looking in 80's dresses made her look like a Cinderella. Every song she followed a colour scheme which suits her skin tone very well. Half Saris in first song, trendy dresses in second song, third song different kinds of skirts which imbibes the Paris beauty in it. The costumes she wore are frill skirts, miniskirts and frocks with floral prints. She looks like princess in last song with frocks. Black and red combinations of costumes in all songs made her look more romantic and appealing. Experimental colours like parrot green frock, pink shirt with orange skirt looks different and well suited . Tamanna presented herself with all the colours and beautifully too.
Conclusion:
Director's taste in presenting the cast is well observed in this movie. The colours chosen are well experimental but successful. Ram looks new and he better continues this trend of using different chequered shirts etc. Tamanna with meagre accessories also looked beautiful wearing mostly heart shaped accessories which gave a pleasant but rich look. The new style of Scarf tied to the waist is tried by ram and it worked out .
Other Fashion reviews:
• Gabbar Singh
• Dhammu
• Racha