Story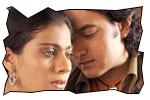 Zooni (Kajol) is a blind girl from Kashmir and she is on a visit to New Delhi along with her friends to perform at a Government ceremony on 26th January. There she falls in love with a flirtatious tourist guide Rehan (Aamir Khan). When she seeks opinion about it from her parents through telephone, they leave it to the instincts of Zooni. Rehan takes Zooni to an ophthalmologist and fixes her eyes. By the time she gets her vision back, Rehan is declared dead. The rest of the story is all about the other side of Rehan how Zooni affects him!
Artists Performance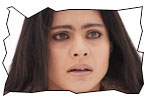 It is quite understandable why Aamir Khan accepted this role, because this role offers tremendous scope for wide variety of histrionics. He is at his best. Kajol steals the show with her magnificent work. She is completely breathtaking with her infectious smile while portraying blind girl in the first half of the film with consummate ease. Rishi Kapoor is just perfect as doting dad of Kajol. Kiran Kher is cool. Tabu did the role of top brass cop. Sharad Saxena did the role of boss of anti terrorist squad. Master Ali Haji who did the role of Kajol's son is pretty endearing.
Technical Departments: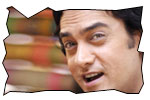 Direction of the film is partly good with director losing grip as the story progressed. Screenplay of the film is adequate in the first half and goes completely out of hand in second half. Dialogues by Kunal Kohli are good. Shayaris uttered by lead couple in the first half are highlights of the film with frontbenchers going gaga over them. Cinematography by Ravi K Chandran is fabulous. Digital intermediate (Tata Elexi) is just perfect. Music by Jatin Lalit is neat.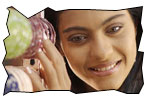 Analysis: First half of the film is neat. The twist that leads to interval episode is interesting. Second half of the film is boring. The main drawback of the film is unconvincing characterization of Aamir Khan. His character starts off as hero and ends up as villain in climax. The justification given for Aamir character to believe in terrorism and giving priority to terrorism over love/family is not up to the mark. On a whole Fanaa – coming from great filmmakers (Aditya Chopra and Kunal Kohli) and great performers (Aamir Khan and Kajol) disappoints.
Jeevi reviews of previous films
Main Hoon Na
Ek Hasina Thi
More Reviews