Title Dilemma for Venky and Balayya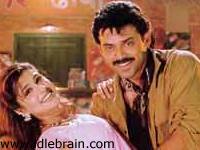 Venky seems to be too confused man these days. Take an example of his latest film that is being shot. This project in which Venky is doing two roles as father and son started off in February 2000. At that time they registered two titles Vishnu and Rudrama Naidu. Basically Vishnu is the name of son character and Rudrama Naidu is name of father character. And they finalized on the name 'Rudrama Naidu' thinking that it may become a powerful title as 'Samara Simha Reddy'. But the bite of 'Raa' is so strong that Suresh Babu could not resist from registering 'Jayam manadena Raa' and 'Vijayam manade Raa!'. And finally they fixed upon 'Jayam Manade Raa'. Lets wish victory for Venky with this film. Even the title of the film 'Devi Putrudu' was not the first choice. They have decided on 'Nannaki Prematho' for this film earlier.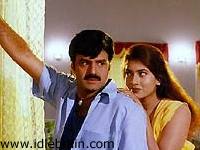 The dilemma of title do not stop here. Balayya too has fallen prey for this for his past films. One of that being Srinivasa Arts film in the direction of Muthyala Subbaiah. It was earlier rumored to be titled as 'Seema Simham'. Later on they fixed upon Krishna Babu.
The same was the case of latest film 'Goppinti Alludu'. It was more appropriately titled as vantinti alludu earlier. But due to dissent from the fans, this title was changed to Goppinti Alludu. Balayya's film in making with B Gopal has two titles earlier and now the producers are tight lipped about it. It was titled as Narasimha Naidu earlier. Later on the same producer registered a title called Subhash Chandra. Lets hope that Balayya gets rid of this title dilemma soon.
Three more films from Usha Kiron films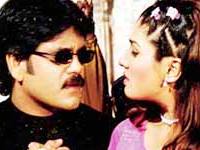 Usha Kiron is having 5 films on the floors now. They are 'akasa veedhilo'(Nag & Raveen Tandon), nuvve kaavaali, moodu mukkalaata, a film in the direction of Ramana and tamil remake of Chitram.
Usha Kiron is planning to make three more films soon. These three films will be directed by Siva Nageswara Rao (of Money fame), Muthyala Subbaiah and VR Pratap(of Nuvvu Vastavani fame).


Click for the Archive