Rayalaseema Ramanna Chowdary on 15th September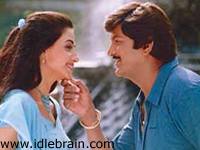 The news is that Rayalaseema Ramanna Chowdary got a clean U certificate from the censor members and also along with that a few commendations from the members of the censor team. Though the movie is ready to for the release, Dr. Mohan Babu is planning to release the film on 15th September as the situation is grim in AP with the recent floods. The audio of this film is released recently and making waves as it has got Suresh Krishna kind of foot tapping music.
Having the back up of Rajnikant, this projects boasts of features that are as good as any of the latest releases posses. To go well with the neat storyline and breathtaking direction, this film is supposed to have technical wizardry attached to with. The Matrix kind of effects using 30 cameras to shoot the time freeze effect that cost them around 10 lacks. Dr Mohan Babu is doing a double role as father and son. Bhanupriya and Priya Gill are paired up against the father and son.
Raja Sekhar - the man with golden heart!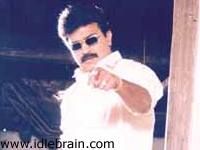 Raja Sekhar never spared any opportunity to show his gratitude to the people of Andhra, who encouraged him and made him what he is today. Everyone knows that the entire Andhra Pradesh is grief-stuck as the floods inundated Andhra Pradesh and affected several people's life. Rajasekhar donated Two lacks of rupees to CM Chandra Babu Naidu on 2nd September.
As Dr. Rajasekhar was busy with the shooting in Tirupathi on that day, he send his wife, former actress Jeevitha and his daughter Shivani to hand over the cheque to the CM. Dr. Rajasekhar was the first person to come forward and donate a lumpsome amount on most of the occasions in the past. There may be some bad gossip floating around in the industry about his time sense when attending the shootings. But it was Raja Sekhar, who was the front runner for any matters related to social cause. Idlebrain.com salutes Dr. Raja Sekhar, the man with a heart of gold.
Dasari to shoot his songs in abroad for the first time
Dasari, who directed more than 100 films so far with the legends of Telugu cinema in the past. But none of his films were shot in abroad. For the first time Dasari is going to shoot his latest film, Chinna in Newzealand. SA Raja Kumar, the melody king, has recorded six songs for this film.
The unit is leaving to Newzealand on 5th of September. According to Dasari, the hero of the film is doing wonderful fights. He also informed that the introduction fight of the film is going to be a highlight, which has taken the unit five days to shot. Dasari Arun Kumar is the hero. Mumbai lass Akanksha is acting as the heroine. 40% of this film's shoot is over.