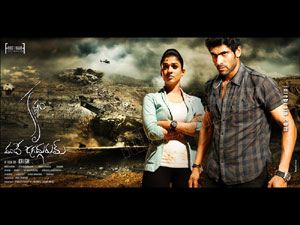 Two men.
One keeps digging. Digging day in and out, deep under the earth to steal what he can and be the master of everything.
The other man also keeps digging. Digging day in and out, to preserve soil for future, for others.
Who is the crazy one?
Two outsiders.
A woman keeps digging into the dirty deeds of a man to stop him.
A man wants to dig himself out of his past and his present to 'live practically'.
One cares a lot. The other doesn't.
An old man dies. Was his heart broken?
An art is dying. Did its heart break too?
Both the old man and his art are to have their final rites in the same place.
It turns out that it isn't exactly the same place that the old man left.
We learn that God's own lake has disappeared from there.
What can one expec to find in such a place?
Should we care?
Shouldn't we?
Why should anybody care?
Writer-director Krish asks the same questions, and tries to answer them in quite a stylish manner, making a grand action film – complete with all the formulaic elements including item songs, chases, flying bullets, exploding automobiles, and a tall, well built, handsome hero returning to avenge his parents' death and romancing the heroine.
The film dives into its subject quickly and without much fuss. A hilly bare landscape heaves suddenly, shudders violently and settles down into a cloud of dust. A procliner digs aggressivly deep only to belch out red clouds of dust. A forest burns relentlessly. Tempo builds up quickly and the film hurtles relentlessly towards an intermission with literally a bang. Then, it gathers its pace again and proceeds to give us a pulsating savagely visceral climax where the talents of the director, lyricist, music composer, singer, actors, the fight choreographer, ciematographer, the make-up man – all the craftsmen involved in moviemaking - come together to create a cinematic tour de force of a climax.
In the midst of all this, Krish did not forget his questions, and does not let us forget them either. His protagonist digs into his own soul to come up with his answers, finding himself and his God in that process.They may or may not be our answers. But, we make his questions ours – at least for some time.
The film is often funny and sometimes quite witty. The movie is carried on the well sculpted shoulders of Rana, who sheds his sophisticated Leader persona for the unusual role of an engineering graduate and itinerant theater artist, with a buff body and action heroics. He acquits himself well in this role specially written for him and demonstrates that he has grown as an actor. Once again, Krish creates another strong heroine, but but her role seemed to diminish as the movie progressed. Nayanatara looks glamarous and is quite convincing in her role; she should get extra credit for speaking her own dialogues. Posani, in a well scripted role, goes over the top, but makes us laugh, a lot. Kota Srinivasa Rao, LB Sriram and Annapurna impress. Many of the performers in the smaller roles (the police inspector, the wife of the slain journalist, the old woman in the theater troup etc) are cast well and bring authenticity to the film.
A special mention needs to be made of Sirivennela Seetaarama Saastri, Mani Sarma and the song jarugutnnaadi jagannaaTakam, which elevates the film to a higher plane.
Krish, who puts his protagonist in a Surabhi theatrical family, treats the theater with respect, affection and authenticity without overdoing it. He is also careful that the movie does not drift into a routine revenge movie. His treatment adds many layers and depth to the movie. It's not that there aren't some glaring holes in the story, but the film keeps moving at a fast clip and doesn't let us dwell on them. Krish seems to have found a good collaborator in the dialogue writer Sai Madhav. Some of the characters from this movie – like LB Sreeram in the role of maTTi raaju – leave quite an impression. The one major complaint I have is about the ritualistic item songs to please some gods of commercial Telugu cinema; I expected Krish to use them with better sensibility. There are a couple of scenes in the movie that were quite horrifying. There is quite a bit of blood and gore, and some people may not find the climax (the one I raved about) to be of their taste. In some ways, horror (bheebhatsam) is the underlying rasa for this movie – though it is not in the horror genre.
This was a movie that I had been anticipating for a while. Krish, a well read, sensitive and sensible film enthusiast, had already made two impressive movies earlier and demonstrated that he can be entertaining, stimulating and successful while staying off the beaten path. I am always eager about his work. Sirivennela Seetaaraama Sastri, a friend and a favorite poet, has been mentioning about the song jarugutunnadi jagannaaTakam in almost every conversation. On the way to the theater, Aruna expresses some concerns that the film may not match up to our high expectations. I brushed off her concerns saying, "Even if it doesn't, Krish will still give us a decent movie; he can't make a dumb movie." Krish didn't disappoint. He seems to have found that magic place where a film can have all the masala elements, be a commercial success, and still be intellectually stimulating. I hope he returns to this place often.
Krish, vaMdE darSakaratnam!
by V Chowdary Jampala
Other KVJ reviews
by Pallavi Sukumar
by Nagresh Achanta