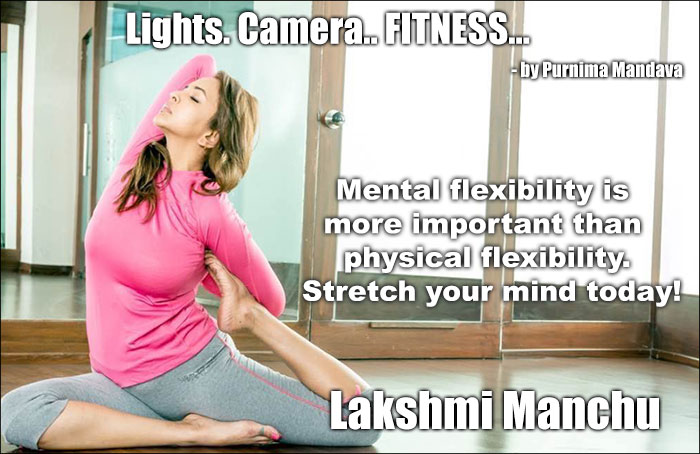 11 December 2014
Hyderabad
Introduction
Hola people! Want to learn how top celebrities maintain those hot bodies, healthy lives and young looking skins, here we come with the extensive list of celebrity workout routines and diet tricks. Yes, they crave junk foods, struggle to take off baby weight and even -- cellulite.. gasp! How do they still look young and sizzling on screen. Here's how! Get set to savour the latest trends in celebrity fitness, diet, health and lifestyle.
Positivity, kindness and discipline is the aura that you find when Lakshmi Manchu is around. I have had a volume of instances with her in which she could make anybody around her feel encouraged and loved. Despite all the background and support she has had in tollywood, Lakshmi Manchu is a tough girl who has kick-started her acting career in Hollywood with guest starring in a popular television play "Desperate housewives". She had her acting assignments from NBC's , Las Vegas and ABC's Boston Legal, all by herself! Despite being on a successful mission of creating her own zone here in tollywood, being a strong and multi- faceted entrepreneurial woman, she is an adorable darling and there's absolutely no throwing starry tantrums. Here's presenting to you the whole new side of Lakshmi Manchu and how she slices her time for her health and fitness apart from donning various roles of a daughter, wife, actress, producer, television host and yeah! A new and the most colorful feather on her cap of responsibilities 'being a mother' of the cute little ' Vidya Nirvana Manchu'.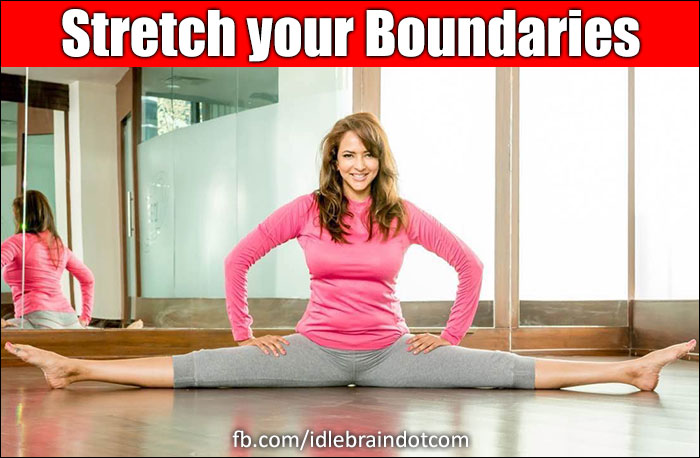 Stretch your Boundaries:
The actress kicks off her workout routine with a stretching regime. Lakshmi is a long limbed beauty standing at a height of 5 feet 9 inches, for which she credits her genes. It's an eye treat to see the perfection in her moves while she elegantly stretches her body for a full split with her long legs and does a flow yoga by graciously moulding like a bird. Yes! A bird! Her picture on the banner depicts one of the many variations of Raja- Kapotha Asana or the King- Pigeon's Pose. "This pose needs a lot of practice and it needs you to be really flexible!" I said. But our lucky Lakshmi quickly confesses that she is gifted with flexibility and dint need much practice. However it came to her but flexibility is Lakshmi's forte. "Health or fitness is more mental than physical. I am happy whenever I do yoga. It clears all the conflicts and drives away the negative energies", says the actress. Wow! So true! She has done the Vipassana course several times in her life and recommends that everyone should do it at least once in a life time. "It helps to give you clear sensations, thoughts, feelings and judgements. It gives you a more positive perspective about life", adds the yoga girl who had really stretched her boundaries to stand where she is today. The actress is also actively involved in the Isha foundation endeavors.
Diet Regime:
Meal 1:Hot water with mixed with, honey, lemon and cinnamon powder + eight soaked almonds
(Cinnamon powder, the actress knows, is a natural weight loss agent and soaked almonds to break the fast and kick-start her metabolism)
Meal 2: After an hour from the first meal, Steel cut Oatmeal with Goji berries, Blue berries and Amla.
Meal 3: At 11:30 am three marie biscuits and a cup of green tea
Meal 4: Lunch home-cooked meals, Quinoa, Dal, sabji and curd.
Meal 5: At 4:30 jaggery and peanut cakes.
Meal 6: Dinner, home-cooked meals.
Lakshmi Manchu, drinks a plenty of water all through the day and loves peanut and jaggery chikki, not just for its taste but for its supply of plenty of iron and protein to the body.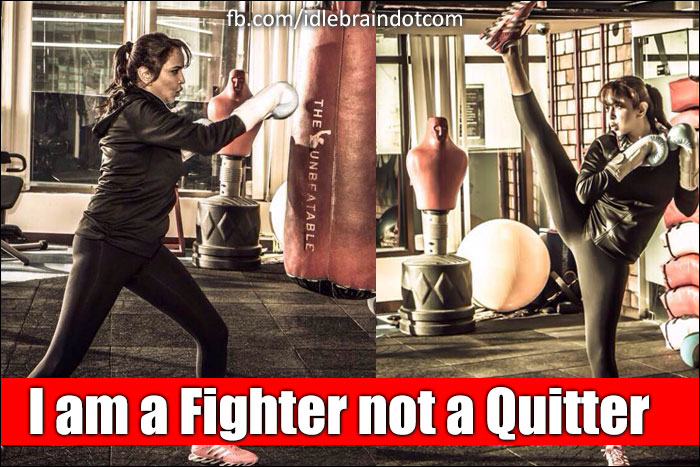 I am a Fighter not a Quitter:
Lakshmi Manchu is a real tough woman. Not being alien to vigorous workouts came to her from her father, Dr.Mohan Babu garu being a school physical education teacher before his foray into movies. She fondly recalls her childhood, going jogging with her dad and trying hard to race him but in vain. Off late, Kick boxing had entered into her workouts list. Jackson, her kick boxing trainer tells that she is quite a determined client and is never afraid of high intensity workouts. "Lakshmi ji is very punctual and disciplined, she makes sure that she reaches the gym at least fifteen minutes before the workout time" tells Jackson, who had trained almost every celebrity in t-town for kick boxing. You ask him who are the celebs that he had trained, he quickly tells you one or two names of whom he dint! Ah! That explains! "She enjoys the punching sessions of kickboxing", shares the trainer. Guys, you have got to watch her kicks and I am sure none of you would dream of messing with her. Kick boxing gives her an overall body workout, it helps her get toned, improve on her endurance and reflexes. Lakshmi looked an incredibly inspiring mother as the little Nirvana came to watch her mom workout and get some of her pictures clicked besides her fighter mom!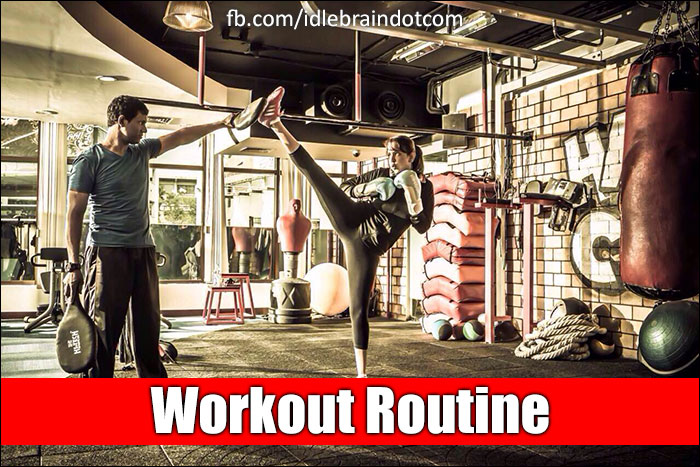 Workout Routine:
Kickboxing for five days a week, coupled with stretching and yoga.
Lakshmi Manchu, owes her workouts to dance as well. She sometimes loosens up by moving her body to the peppy numbers. She relaxes her body and mind with dance. The actress opines that wellness is eighty percent lifestyle and diet and twenty percent workout.

The Tollywood lifestyle doesn't always lend itself to clean living, though the celebs can afford pricey wellness instructors and top-notch personal chefs and plenty of experts to help them stay healthy, having the right food at the right time is the most challenging part. Guys! Lots of good things to smuggle from Lakshmi Manchu's wellness regime, who is known for her time discipline, follows a healthy regime and swears by home cooked fresh and timely meals..
by Purnima Mandava
Other celebrity fitness articles by Purnima:
• Harshvardhan Rane
• Rana Daggubati

About the author - Purnima Mandava:
The writer is a celebrity and corporate health & fitness coach by profession. She is a research scholar on nutrition from UCLA. Purnima is an International Athlete, a National level Basketball player and Volleyball player by passion, also a fitness writer by hobby.
Reach her at [email protected]
FB link: https://www.facebook.com/purnima.fitness