Story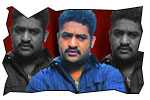 Ashok (NTR) is a bike mechanic who stays away from his family as he nurses a strained relation with his father. He falls in love with Anjali (Sameera Reddy). KK (Sonu Sood) is a big gangster who sets his eyes on Anjali. Ashok wins Anjali through love and KK wants to force her into a marriage. The rest of the story is all about how Ashok eliminates the baddies.
Artists Performance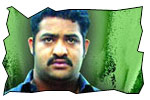 NTR: NTR changed his style in this film. His dialogue delivery mellowed down a bit and histrionics are little subtle. NTR's wardrobe is good in this film. NTR kind of dances are there in two mass songs (3rd - Gola Gola & 6th - Nuvvesukunna dress) to entertain the masses. His performance in hospital when Rajiv Kanakala dies is very good.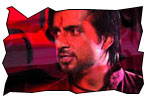 Others: Sameera Reddy is adequate as heroine. Prakash Raj is pretty good in a vital role. Sonu Sood is perfect as the main villain. Jeeva steals the show as a comic baddy. Supreet (Chatrapati fame) is good as villain's brother. Raghu Babu is neat. Rajiv Kanakala has an important role.
Technical Departments: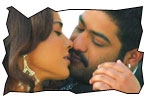 Story - screenplay - Direction: Story of the film is adequate with good quota of three major elements - Family orientation, love thread and mass conflict. What makes the story more interesting is the screenplay and narration technique. Director Surender Reddy used 'quick flashback technique' (showing the effect first and then rewind it to the cause) one time in Athanokkade film where last scene of an episode is shown first and then the film is rewound to show the entire episode in detail. In this film, he used that technique in 6-7 episodes in an efficient manner. If those scenes were narrated in regular format, it would have been very routine. Director also had pretty good expertise in shot-making and conceiving of action episodes. However, Surender Reddy should seriously consider toning down the usage of optics and jazzy narrative techniques for unimportant scenes. These optics should be used selectively to derive the maximum output. The latter part of the second half reminds us of Ram Gopal Varma's James (heroine reaching the edge of cliff and climax rain fight). Director could able to narrate the film effectively without revealing the main conflict point in the first half. But once the main conflict point is out, the film moves on predictable mode. The director could not balance the content in the film as 70% of the film revolves around heavy duty action episodes. The following episodes got instant applause
1. Kid taking his nicker out to insult goons
2. Prakash Raj dialogues in lead scene to climax
3. Jeeva's comedy as villain's sidekick
4. Interval episode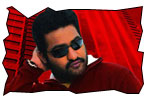 Cinematography: Cinematography by Senthil is excellent. We can't give the entire credit to Senthil as there is lot of DI (Digital Intermediate) and optical work involved. The usage of S35 camera enhanced the visual grandeur. I was very impressed with his style of canning mud water splashes using soft light in Chatrapati film. In this film too he used similar technique to get good output. Chase sequences during interval episode are captured brilliantly.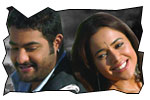 Other departments: Music by Mani Sharma is good. Three songs (1, 3 and 6) are good on screen. Dialogues are adequate. Editing by Gowtam Raju is good. Stunts by Stun Siva are impressive. Lyrics by Chandrabose are good in 'Jabiliki' song. The production values of this film are grand. This is probably one of the very few films that are made with such a grand production values in the recent years.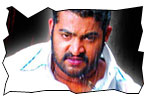 Analysis: First half of the film is Ok and second half is decent. The beginning part of the film, interval episode and lead episodes to climax are good. The plus points are NTR, Surender's screenplay and taking, Cinematography and grand production values. The major drawbacks of the film is lack of entertainment in terms of comedy, too much of action orientation and excessive violence. On a whole, Ashok is a decent film.
Ashok links
Photo Gallery
Muhurat
Audio launch
Wallpapers
Trailers
Jeevi reviews of previous 5 films
Vikramarkudu
Godavari
Pokiri
Veerabhadra
Pournami
Sri Ramadasu
More Reviews