Story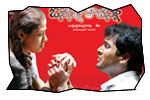 Mangaraju (Pilla Prasad) is the dreaded landlord of Lanka. He forcibly grabs the lands and farms of farmers in Lanka. In the process, he grabs the land of Ravi's father. Ravi (Uday Kiran) grows up in a nearby village. After growing up, he returns to Lanka to claim his land. He gives dappu performance on the birthday of Mangaraju and impresses him. When Mangaraju asks him what gift he wants, Ravi asks for his rightful land that was grabbed by him 20 years ago. Mangaraju in trying to keep his word, gives back 5 acres of land. Ravi starts ploughing this land. He also falls in love with a village belle Aravinda (Sadaf). And incidentally Aravinda happens to be the grand daughter of Mangaraju. Mangaraju who disapproves of this love, separates them. The entire second half is all about how Ravi and Aravinda reunite to get married.

Artists Performance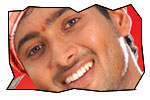 Uday Kiran: Uday Kiran improved his histrionics by leaps and bounds in this film. There is an enormous amount of authenticity in the portrayal of his role as a village lad. His dialogue delivery is perfect in this film. He worked really hard on every aspect of his role and excelled in it.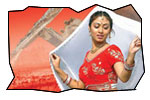 Sadaf: Sadaf is pretty charming as village belle. Dubbing by Sunitha went well with the expressions of Sadaf. Her way of saying 'ayyo rama' is cute. She wore vonees in this film all the time. Probably Teja is the only director who could bring the best out of Sadaf.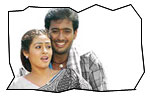 Others: Pilla Prasad (of Sri Anjaneyam fame) is adequate as villain, but too much of dialogues and monotonous performance makes him redundant. Dharmavarapu Subramanyam is good with his consistent timely comedy. Rallapalli and Duvvasi Mohan are adequate. Suman Setty and the other guy (introduced through Jai) are appropriate. Sangeeta and Rama Prabha are satisfactory.
Technical Departments: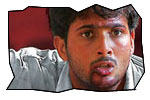 Story - screenplay - dialogues - direction: Story of the film is routine. Screenplay by Teja is OK and is in the style of Jayam. He could establish the characters well and set a mood for the film with first half. But he could not sustain interest in second half as it runs with the single objective of hero-heroine reunion. The movie is dragged in second half and narration is uninteresting for that part. Teja's work as dialogue writer is adequate. Teja who used rope technique from Mission Impossible for Jayam film has used an episode from 'Robinhood: Prince of Thieves' in this film (the scene of hero and heroine jumping out of fort using box).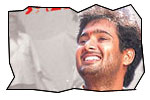 Music: Music by RP Patnaik is an asset. All the songs in this film are situational ones except for Suvvi Suvvi. Picturization of the songs is good. Background music is OK, but sounds heavy at times. The following tunes are inspired from Ilayaraja's work -
Nelatalli Gundelo - Mabbe masakesindile (Vayau Pilichindi)
Suvvi suvvi - Minneti Suryudu (Seetakokachiluka)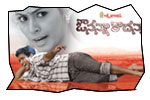 Other departments: Camerawork by Sameer Reddy is very good and he used different lighting schemes to elevate character/subject as per the scene's requirement. Choreography by Shankar is commendable. Fights by Horseman Babu are bit repetitive. Editing by Marthand K Venkatesh is OK. Production values by producer Atluri Purnachandra Rao are satisfactory.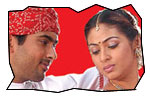 Analysis: First half of the film is satisfactory as it sets mood for the film. The single point of hero trying to fetch heroine from the house of villain could not sustain interest in the second half. Second half of the film is weak. On a whole, Avunanna Kadanna is a typical Teja's film that is comparatively better than his past two flops - Jai and Dhairyam. We have to wait if Teja could repeat the magic of Jayam or not with this film.
Avunanna Kadanna Links
Audio Function
Platinum Disc
Photo Gallery
Wallpapers
Jeevi reviews of previous 5 films
Bunny
Andagadu
Soggadu
Sada Mee Sevalo
Chakram
More Reviews