Story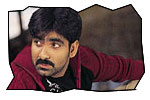 Veera Bhadram aka Bhadra (Ravi Teja) is good friends with Raja (Deepak). Bhadra falls in love at the first sight with Raja's sister Anu (Meera Jasmine) when he sees her on a video. Bhadra pays a visit to the house of Raja to get familiarize with her. Incidentally, Raja's family is highly involved in feud factions. And the family of Raja is erased by faction leader Veeraiah (Pradeep Rawat). Bhadra rescues Anu and takes her to his home. The rest of the story is all about how he protects her and eliminates the gang of Veeraiah in that process.

Artists Performance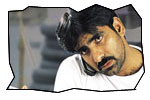 Ravi Teja: Ravi Teja is in his elements with his reckless-looking histrionics. His character has got extreme shades of soft lover and hard hitter. He excelled in performing action sequences. His dialogue delivery is good, but he is telling certain lengthy dialogues so fast that it would be hard for the audience to follow them.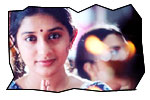 Meera Jasmine: She did a sensible role in this film. She is an amazing actress, but she is under exploited in Telugu films. Her histrionics towards climax (especially in the scene where she is given flight tickets by hero) are excellent. Savita Reddy dubbed her voice.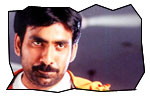 Others: Deepak is adequate as brother of heroine. Prakash Raj excelled the role of heroine's elder brother. Pradeep Rawat's characterization and get-up is an extension of Sye film. Brahmaji is first-rate as loyal assistant to Prakash Raj. Sunil's comedy is good. Jeeva and Subbaraju are passable. Jhansi did the role of housemaid who suspects Ravi Teja and Deepak to be gays (Kal Ho Na Ho rip-off). Padmanabham is OK as grandfather.
Technical Departments: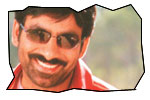 Story: Story of the film is about how hero saves heroine from villains and send her abroad so that she would be safe. This basic storyline has striking similarity to that of Mahesh Babu's Okkadu film. Okkadu film had straight narration and this film has flashback narration.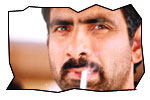 Screenplay - direction: Screenplay of the film is adequate. Direction by the debutant director Boyapati Seenu is average. Though he succeeded in conceiving some scenes, he could not narrate the film in such a way that tempo builds up as the film progresses. When every new director is trying to impress upon the audiences with different screenplay and shot making, director Boyapati Seenu followed the beaten path.
Dialogues: Dialogues by Koratala Siva are good. But quite a few comic punches could not be handled on the screen with perfect timing. Here are a few good ones -
1. Ravi Teja (looking at his photo on cell phone): Chee! Nee batuku cheda!!
2. Ravi Teja to Pradeep Rawat: Nenu odipothe naa okka tale. Nenu geliste mee andari talalu.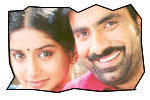 Other departments: Music by Devi Sri Prasad is unimpressive. Photography by Arthur A Wilson is adequate. Stunts by Kanal Kannan and Ram-Lakshman are OK. The Sumo clash scene and Sumo blasting scenes are impressive. Art by Prakash is satisfactory. Production values by Sri Venkateswara Creations are good.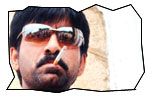 Analysis: First half of the film runs without any story and has got certain elements for classes. Second half runs on bloodshed and faction feuds. Last 45 minutes of the film has series of fights. There is lots of violence in the second half. Producer Dil Raju's strength lies in selecting different scripts and that is the same reason why Dil and Arya clicked at box office. He tried to go for formula with Bhadra. On a while, Bhadra is an average formula film, which runs on the strengths of Ravi Teja.
Bhadra Links
Photo Gallery
Muhurat
Press Meet
Audio function
Wallpapers
Jeevi reviews of previous 5 films
Athaokkade
Naa Pranamkante Ekkuva
Hungama
Mr. Errababu
Subhash Chandra Bose
More Reviews