Story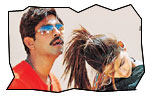 Jagapati (Jagapati Babu) is an orphan and also a loyal henchman of local MLA Goud (Pradeep Rawat). Jagapati loyally protects the interests of Goud and also provides security to him. Incidentally Jagapati turns out to be the local Sub Inspector of Police. He turns the police station into a bar and makes the constables serve liquor. He happens to meet a beautiful girl called Lavanya (Rakshita) and falls in love with her. And Lavanya turns out to be a widow of Murari (Sai Kiran) whom Jagapati kills. The rest of the story is all about how Jagapati mends himself.
Artists Performance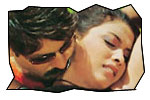 Jagapati Babu is good in the title role. He did a bit of lighter vein comedy while trying to impress upon heroine. Rakshita is adequate in the role of heroine. But she and Jagapati Babu did few things on the screen during songs that are best confined to bed room. Poor Navneet Kaur is reduced to a vamp in this film. She has more 1-1 scenes with Suman Shetty than with Jagapati Babu in this film. Comedy by MS Narayana evoked some laughter. Pradeep Rawat is average in the role of villain. Subbaraju and Salim Baig are fair. Sai Kiran did a special character in this film.

Technical Departments: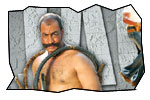 Story - screenplay - direction: Story of the film lacks clarity and logic. Screenplay is very confusing. Direction of Jonnalagadda Srinivas is amateurish at the best. The characterizations are pretty bad. Narration of the film is pathetic. The director should realize that making mass films does not mean that one should leave everything behind and just concentrate on fights and hero-build-up scenes.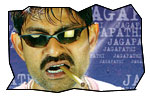 Other departments: Music by MM Keeravani is adequate. Camerawork by Jayaram is OK. Though certain dialogues are adequate, Janardhan Maharshi injected unnecessary dialogues and references. He should have written measured dialogues. Fights by Vijay and Ram-Lakshman appear artificial. Editing by Kola Bhaskar is not crisp. Production values of the film are good.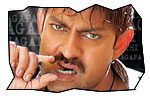 Analysis: First half of the film is mediocre and second half is bad. This film heavily suffers from bad story, bad screenplay and bad direction. There is so much of skin show and sexual innuendos related to heroines in this film. Jagapati Babu disappoints the Telugu film lovers with wrong selection of storyline and director with this poorly made Jagapati Film.
Jagapathi Links
Muhurat
Press Meet 1
Press Meet 2
Audio Function
Photo Gallery
Wall Papers
Jeevi reviews of previous 5 films
Aparichitudu
Andarivadu
Narasimhudu
Kunkuma
Bhadra
More Reviews