Story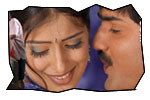 Sudarshan (Srikanth) starts Kanchanamala Cable TV Network in a village called Juvvalapalem. He names his Cable TV network after his niece who is been missing for the past ten years. A girl called Sirisha (Lakshmi Roy) pretends like Kanchanamala and starts living with Kanchanamala's parents. Sudarshan realizes the uses of spy cams and decides to experiment it by exposing the clandestine deals and illegal happenings in that village. He starts showing those incidents live to the people of Juvvalapalem. The rest of the story is all about how he changes the village and marries his niece Kanchanamala.
Artists Performance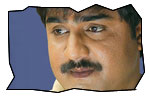 Srikanth is good as the cable operator. He imitated Chiranjeevi at times and it all appeared pretty natural. Debutant Lakshmi Roy is a disappointment. Sunil is good as assistant of Srikanth. Satyanarayana and Annapurna are adequate. Among the gang of comedy villains, Krishna Bhagawan is better. Venu Madhav is adequate. Allari Subhashini did a respectable role in this film.

Technical Departments: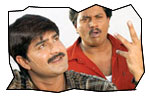 Story - screenplay - direction: Debutant director Pardha Saradhi came up with an interesting story idea. But he could not support it with logical screenplay. Screenplay of the film is inadequate. Direction is not up to the mark. Narration of the film is sloppy. The following points in the script sound unconvincing -
1. Mother (Annapurna) not able to recognize that the girl who entered her house is fake Kanchanamala.
2. The live coverage of events in climax.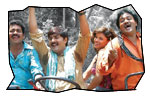 Other departments: Music by KM Radha Krishna is decent. A couple of songs hold your attention. Lyrics by Veturi are excellent. Cinematography by Poori is adequate. Dialogues by Marudhuri Raja are good, but director could not get the comedy timing and punch right while canning the film. Editing by Srikar Prasad is OK.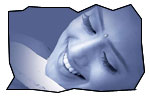 Analysis: First half of the film is mediocre. The second half is a letdown. The plus points of the film are music, lyrics and a few comedy scenes. The minus points are screenplay, direction and heroine. On a whole Kanchanamala Cable TV disappoints.
KCTV Links
Press Meet
Photo Gallery
Wallpapers
Audio function
Audio CD function
Lakshmi Roy photos
Jeevi reviews of previous 5 films
A Film by Aravind
Naa Oopiri
Nireekshana
Oka Oorilo
Anukokunda Oka Roju
More Reviews