Story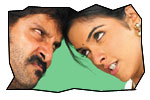 Prasad (Vikram) and his family - father (Manivannan) and elder brother (Pasupathi) - are in the profession of robbery. They decide to leave that profession and lead an honest life. They sell off their assets, buy a lorry and look out for a nice place to settle in. They tumble upon a village and meet a family which is being harassed by a feudal lord called Rayudu. The trio helps out this family by opposing Rayudu. Seeta (Asin) is the daughter of Rayudu. Due to certain unavoidable circumstances, Prasad ties knot to Seeta forcibly. Then there is misunderstanding between the trio due to the game played by Rayudu's relative. The rest of the story is about how all ends well.
Artists Performance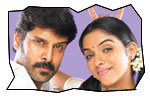 Vikram shows his versatility again with this character. There are lots of shades to it and he tries to underplay them all and raises to occasion only when it's needed. Vikram should also be appreciated for letting Pasupathi get good footage in first half. Pasupathi steals the show with his romantic antics. The guy who dubs the voice of hero Venu dubbed Pasupathi's voice. Manivannan is great as affectionate father. Kota's dubbing to Manivannan is another asset. Vadivelu is fair with Brahmanandam's dubbing. Asin suited the role very well. Vijay Kumar is adequate.

Technical Departments: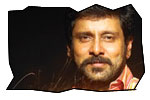 Story - screenplay - direction: Story of the film is simple. In the beginning of the film it appears like a mass film, but as the interval approaches this film turns out to be a family oriented film based on relationships. Direction is adequate. Screenplay is neat in the first half, but becomes very predictable in the second half. The director sprinkled nice amount humor in the film in order to sustain interest.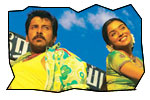 Other departments: The biggest technical asset of the film is wonderful cinematography by Bala (Siva Putrudu fame). There is so much pleasantness in visuals due to wonderful locations. Music by Vidya Sagar is adequate. The two songs that come in second half are good. Chi Chi song is pretty romantic and sensuous. Artwork by M Prabhakar (Virumandi fame) is first-rate. Dialogues by Sri Rama Krishna are satisfactory. Production values by Rockline banner are excellent.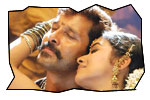 Analysis: First half of the film is entertaining with good sprinkling of humor and neat screenplay. The second half goes on predictable line. Climax of the film is a let down. The plus points of the film are Vikram's performance, Pasupathi's romantic thread and Bala's brilliant cinematography. The negative points of the film are predictable second half and Tamil nativity (no Telugu actors in the film). We have to wait and see how Mazaa - releasing after blockbuster like Aparichitudu - performs at Box Office.
Mazaa Links
Press Meet
Audio launch
Photo Gallery
Asin Photo sets
one | two
US schedules
Jeevi reviews of previous 5 films
Moguds Pellams
Danger
Bhama Kalapam
Vamsam
Modati Cinema
More Reviews