Story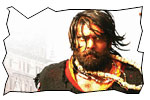 Rudra (Arya) is sent to Varanasi when he was kid since the astrologers told his father that the father and son should not meet each other for 14 years. When the father comes to search his son after 14 years, he finds out that Rudra has become an aghora. Rudra's guru tells him that he should cut all the relationships to become Kal Bhairav and sends him back home. There is a local beggar's mafia in Rudra's village. And rest of the story is about how this mafia crosses the line of Rudra and how he punishes them.
Artists Performance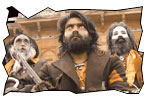 Arya is extraordinary as Rudra in this film. And if you see him in real life and in this film, you will not recognize him. It is a terrific makeover. The dubbing voice given to Arya by Ravi Shankar is excellent. Pooja is excellent as the blind begging girl. Both these actors are sure to bag awards. There are many new faces and physically challenged people cast in this film.
Technical departments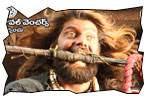 Story - screenplay - direction: The basic concept of the film is based on 'Aham Brahmasmi'. Rudra character behaves like a God in the end. That is why this movie is titled as 'Nenu Devudni'. Bala comes up with another authentic and highly disturbing film 'Nenu Devudni'. The scenes involving physically challenged beggars are brutally disturbing. All the scenes involving Arya are heroic. Though there are a few commercial elements in the film, it is mainly aimed at awards and festival circuit. The following scenes are good
1. Introduction song of Rudra.
2. When the cop comes and says swamy while interrogating, Rudra responds by saying 'deerghayushman bhava'.
3. The scene showing a small baby crying when Rudra shouts in court.
4. When the cop comes to light the ganja of Rudra, he shouts and cop runs away.
5. The scene in which Rudra drags Malayali baddies into bushes (just like predator taking his prey into woods after killing).
The following scenes need immediate attention
1. The comedy in police station where beggars imitate the old legends of Tamil cinema. This episode has no relevance to Telugu crowds.

2. The dialogues in the final scene by heroine are too lengthy and it makes crowd restless. It should be trimmed to minimum level.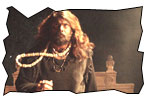 Other departments: Background music by Ilayaraja is extraordinary. One does get goose bumps in certain situations. Cinematography by Arthur Wilson is very good. Fights composed by Kanal Kannan are very effective and highly realistic. Art direction by Krishna Murthy is authentic. The producer should have guts to produce such a movie.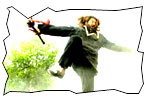 Analysis: First things first! Nenu Devudni is not for everybody. One should have stomach to absorb such a highly disturbing content. The plus points of the film are director's conviction of sticking to realism while narrating story, riveting background music by Ilayaraja and performances. All the scenes involving Arya are good and heroic. The huge minus point of the film is disturbing content. Tamil nativity is also a drawback for Telugu crowds. On a whole Nenu Devudni is a treat for movie connoisseurs who doesn't mind disturbing content. This film will surely have a gala time at international film festivals.
Nenu Devudni links
• Trailer
• Press meet
• Photo gallery
• Wallpapers
Jeevi reviews of previous 5 films
• Shh...
• Arundhati
• Maska
• Indumathi
• Sasirekha Parinayam
• King
• Neninthe
• Dongala Bandi
• Kuberulu
• Surya s/o Krishnan
• Avakai Biryani
• Blade Babji
• Nenu Meeku Telusa?
• Kotha Bangaru Lokam
• Rainbow
• Chintakayala Ravi

More Reviews