Story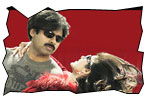 Sanjay Sahu (Pawan Kalyan) is a happy-go-lucky type youth. Bhagyamati (Ileana) falls in love with him and Sanjay accepts her proposal after waiting for a while. Meanwhile, the men of Damodara Reddy (Mukesh Rishi) -a factionist operating from a jail - keep hunting for Sanjay Sahu. The rest of the story is all about why Damodar Reddy is after Sanjay and how Sanjay reacts to it.
Artists Performance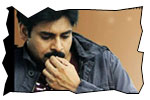 Pawan Kalyan: Pavan Kalyan is extremely energetic as Sanjay Sahu. He did fresh dialogue modulation to create good humor. Everybody had a doubt about Pawan Kalyan performing to the Trivikram's punches and I must say that Pawan Kalyan excelled in getting the Trivikram dialogues right. He did not mind uttering satire on his 'pulla kallu'. He also did fights really well. Pawan Kalyan is looking dashing in Che Guevera get-up during his naxalite days.
Mahesh Babu: Mahesh Babu should be commended for giving voiceover to the narration of the film. It is a very good gesture by Mahesh Babu and this kind of culture augurs well for the Telugu film industry. Mahesh Babu did it in his usual style with an undercurrent wit.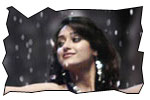 Heroines: Ileana did the role of confused and dumb girl. She is alright. It is a passive role for such a vivacious actress like Ileana. Parvati Melton is sexy to the extent that she dominated Ileana in all the scenes where they were together. Kamalinee Mukherjee did a cameo and she is good. Actor Sivaji did a small role.
Others: Brahmanandam will have you in splits again in the second half of this film for some time. Mukesh Rishi is very good as a villain with a different get-up. Prakash Raj is ok as the father of the heroine. Sunil is nice. Ali and Dharmavarapu are adequate.
Technical Departments: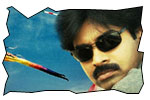 Story - screenplay - direction: The basic storyline of the film is wafer-thin. It is a love story of a reformed naxalite who is forced to confront a bad man. Trivikram excelled in dialogue department and penned many episodes catering to comedy segment. But as a script writer, he failed to do justice to the texture of the film. The film is pretty neat in terms of the comedy department. But he could not fix the narrative into any one particular genre. The screenplay should have been better. The director who made hero reveal about his downtrodden past and social commitment through the dialogues before interval could not match it with the characterization of hero in the second half. Trivikram did very good in technical aspects in terms of sets, camera angle etc.
The following scenes are pretty impressive:
1. Pawan Kalyan antics while meeting Prakash Raj with proposal for twice.
2. Pawan Kalyan splitting milk with Brahmanandam
3. Pawan Kalyan giving 10 rupees note to Brahmanandam. (best comedy thread in the entire film)
The following scenes seem to have got inspired by some other films
1. Mukesh Rishi calling off hero assassination at the last minute (Bill calling Elle Driver back when she is about to inject poison in the body of Uma Thurman)
2. Pawan Kalyan – Prakash Raj jungle episode (Noman's land and Kabul Express)
3. Sivaji's food allergy (Hitch film)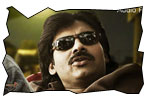 Other departments: Dialogues are superb. Music by Devi Sri Prasad is very good. Background score is also nice. All the songs are picturized in an attractive manner. However, Jennifer Lopez song appears to have been inserted just for the sake of Parvati Melton. Jalsa title song is placed during the climax of the film instead of the beginning. Cinematography is very good. Editing is cool. Fights are composed well. Production values of the film are extravagant.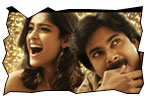 Analysis: First half of the film is packed with nice entertainment though there is no story. The second half should have been better. The plus points of the film are Pawan Kalyan, hilarious dialogues and rich technical values. The negative points are screenplay, naxalite element and excessive runtime. There is no justification to the title 'Jalsa'. On a whole, you may consider watching Jalsa for the comedy episodes in the film.
Jalsa links
• Music review
• Music launch
• Game launch
• Photo gallery
• Wallpapers
• Trailers
Abroad showtimes
• USA
• UK
• Australia & NZ
• Singapore & Malaysia
• Germany
Jeevi reviews of previous 5 films
• Gamyam
• Ontari
• Mr. Medhavi
• Swagatam
• Vaana
• Pourudu
• Krishna
• Mee Sreyobhilashi
• Anasuya
• Mantra
• Seema Sastri
More Reviews