Story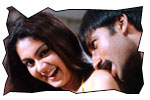 Maheswari (Kamna Jetmalani) is sister of Bhagawati (Biju Pataik), a mafia don in Hyderabad. Chinna (Gopichand), classmate of Maheshwari, inadvertently enters into a row with the gang members of Bhagavati, do falls in love with Maheswari. The rest of the story is all about the how Chinna resorts to a mind game on Bhagavati to win his sister.
Artists Performance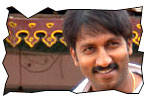 Gopichand: Excellent dialogue delivery has always been a forte of Gopichand in addition to an intense screen presence. His performance in this film too is striking. Gopichand proves to be a thinking actor with this film as you can see his subtle performance in some scenes. The improved gradient from Gopichand in this film is dance. He danced with great poise.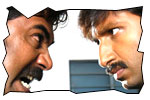 Others: Kamna Jetmalani is competent as female lead. Biju Menon is good as villain and lends fresh flavor. Ali's comedy as Manmadha and his item song are hilarious. Comedy thread between Venu Madhav and Suman Setty is humorous. Rama Prabha seem to be settling for heroine's grandmother role in the recent films. She is good as the lady with lots of love for her native place.
Technical Departments: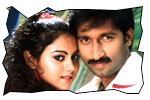 Story - screenplay - direction: Story of the film is routine. This kind of story came in films like Dil & Run. But the treatment is different. Instead of showing the physical fights as the title suggests, the director preferred psychological warfare. Entire film is narrated in lighter-vein with a strong comedy base. Director Amma Raja Sekhar who is a regular choreographer made sure that songs in this film are shot well.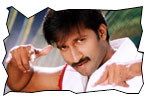 Other departments: Dialogues by Marudhuri Raja are good with comedy sprinkled in to them. Music by Mani Sharma is an asset. Background music is effective. 'Cheli Jabili' song is the best in term of picturization. 'Gana Gana' song enthralls masses. Fights by Gilli Sekhar are alright, but he used too much of threadwork in a film where the contest between good and evil is more of psychological nature. Cinematography is adequate. Editing is fine. Pokuri Babu Rao who is known for making fine films with social message opted not to go for social message and preferred commercial entertainment with this film.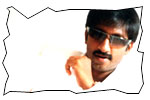 Analysis: First half of the film is entertaining. The tempo in second half is not maintained well. Gopichand steals the show again with good performance. Main strengths of the film are Gopichand and comedy base. On the flipside, title Ranam is kind of misleading as people expect too much of mass orientation. For a change, you see the villain of this film playing fair game with there hero. There is no strong drama between the good and evil as hero dominates villain throughout the film. The climax of the film should have been better. On a whole, there are no boring moments in Ranam and you may watch it.
Ranam Links
Photo Gallery
On the sets
Audio launch
Trailers
Abroad schedules
USA
Jeevi reviews of previous 5 films
Shock
Sarada Saradaga
Happy
Chukkallo Chandrudu
Lakshmi
More Reviews