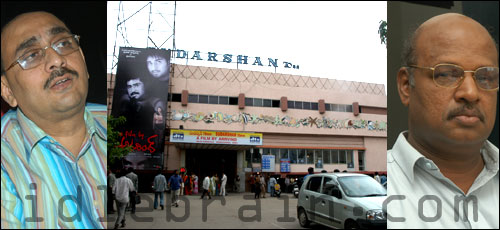 Sudarshan 70 MM A/C is one of the oldest theatres at RTC X roads, Chikkadapalli Hyderabad. Sudarshan 70MM A/C is the first theatre built in that complex and was founded and inauugarated by T Narsimhulu in 1970 Aug 15th. Rekha and Naveen Nischal's Hindi movie 'Sawan Bhadon' is the first movie that was screened at this theatre, incidentally first movie ran for 100 days at Sudarshan.


| | |
| --- | --- |
| Founder | T. Narsimhulu |
| Managing partners | T. Bhaskar Rao & Kovoor Lakshman Rao |
| Manager | Narayana Swamy |
This theatre had a prestigious Dolby Digital Surround Ex sound system installed and had excellent sound effects. RGA sound engineers maintain sound system for this theatre. RGA sound engineers are the best sound engineers in India and Prasadz Imax & multiplex sound systems also maintained by them. This theatre has a Xenon lab projection and it is unique of its kind. Sudarshan 70MM A/C theatre was renovated during 2002 and had luxorious couple seats. They had to reduce the no of seats in the theatre from 1375 to 1065 to facilitate comfort to the patrons.
Seating Capacity of theatre Class wise:
| | | | |
| --- | --- | --- | --- |
| Class | No of seats | Ticket price | Gross per show |
| Balcony | 622 | 35 | 21770 |
| Dress Circle | 145 | 30 | 4350 |
| First Class | 70 | 20 | 1400 |
| Lower Class | 228 | 10 | 2280 |
| Total | 1065 | - | Total Gross: 29800 |
Idlebrain correspondent had a talk with Mr Narayana Swamy manager of the theatre for getting more information about various movies run/collections at Sudarshan 70MM A/C. Mr Narayana swamy started his carrer as a boy at Sudarshan in 1976 and became manager.
Idlebrain also met Kovoor Lakshman Rao, managing partner of Sudarshan 70MM A/C, to extract information about the latest developments after AP govt decision to abolish slab system. He welcomed the Govt decision and told that it helped the exhibitors and patrons in a big way, as more and more people can watch the movie due to the ticket price reduction. He observed that the occupancy ratio of the theatre was increased and so the collections post slab removal period. The biggest relief theatres get is the tax savings. Earlier Sudarshan had to pay Rs 85,000/week towards tax to the government for straight telugu movies and had to pay 1.2 lakhs/week for non telugu dubbing movies, which is very high by any standards. Heartening part is that theatre management had to pay that much tax irrespective of the theatre occupancy. With the abolishon of the slab system, they have got to pay the tax for the occupancy only.
With the new system, there is a considerable amount of savings to the theatres. New tax would be 15% of the tickets sold or 7% of the theatre capacity for Telugu movies, which ever is less. In this way theatre management does not have to pay taxes for total 100% occupany. With less than 50% occupany, distributor/exhibitor can get some share, there by the movie run is increased and so the revenue.
Due to the excellent sound system and the fabulous facilities, average and flop movies are doing relatively better business than other theatres. As per Lakshman Rao of Sudarshan 70MM A/C, Victory Venkatesh flop movie like Gharshana fared exceedingly well and collected a fabulous share of 40 lakhs for 100 days. In the similar lines Anji collected about 35 lakhs for 100 days and small budgeted movie Evadigola Vadidi collected 30 Lakhs share for its 160 days of run.
Sudarshan 70 MM A/C is the pet theatre for Nandamuri Balakrishna. Balakrishna's trend setting faction movie Samarasimha Reddy had a great run for 175 days at Sudarshan 70MM A/C.
Megastar Chiranjeevi Gangleader, Pasivadi Pranam, Super star Krishna Mandegundelu, Mayadari Malligadu and Bapu's classic Mutyala Muggu had a great run and generated record breaking share. The above 5 movies were went on full for 50 days.
Old classical movie Devadasu was released during the Superstar Krishna's Devadas. In the rerun, ANR Devadas ran for 150 days at Sudarshan 70MM A/C (noon shows). Small budgeted movie Aithe did wonders at Sudarshan 70MM, due to prior commitment for a youth star movie, Aithe was lifted from Sudarshan 70MM and after 3 weeks they had to re-release Aithe and it went on for 100 days.
Below is the list of Silver Jubliee movies at Sudarshan 70MM A/C.
1. Mutyala Muggu
2. Pandanti Kapuram
3. Bobbili Raja
4. Samara Simhareddy
5. Kanchi Kamakshi (Dubbing movie-Noon Shows)
6. Aadi Sankaracharya(Dubbing Movie - Noon Shows)
Below is the list of 100 days movies
1. Hitler
2. Bommarillu
3. Srinivasa Kalyanam
4. Aaradhana
5. Aithe
6. Evadi Gola vaadidee
7. Pasivadi Praanam
8. Rowdy Alludu
9. Bangaru babu
10. Bangaru Bommalu
11. Gang Leader
12. Allari Mogudu
13. Major Chandrakanth
14. Kondaveeti Raja
15. Yamudiki Mogudu
16. Anji
17. Gentleman
18. Devadasu (repeat run -150 days)
19. Collector Janaki
20. Gharshana
21. Mayadari Malligadu
22. Mandegundelu
23. Amaradeepam
24. Agni Parvatham
25. Maaya maschindra
26. Devudu Chesina Manushulu
27. Annadammula Anubandam
Note: All the above information is provided by the theatre management. There might be missing 100 days movies in the above list. Please feel free to mail us the missing movie info, if you happen to observe.
Click here for theater reviews:
Sudarshan 35mm
Devi 70mm
Hitech
Prasads