Story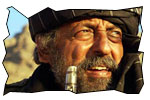 Jai Kapoor (Arshad Warsi) and Suhel Khan (John Abraham) are TV journalists who are in Afghanistan to do a story on Taliban. They take the help of Khyber (Hanif Humghum), a tour guide and driver. They also happen to meet an American journalist Jessica (Linda Arsenio). These people embark on a land cruiser called Kabul Express, which is hijacked by a Taliban (Salman Shahid) who wants to use them to cross the Pakistan border. The film is all about the complexities between these five people.
Artists Performance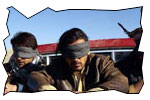 Arshad Warsi is good and provides some comic relief. John Abraham is adequate. Salman Shahid is exceptionally good as Taliban. He succeeds in showing the brutality of a Taliban and exposing his human side. Hanif Humghum does a good job as the Taliban hating driver. Linda Arsenio looks too hot to be a journalist though she did a decent job.
Technical Departments: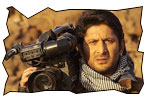 Story - screenplay - direction: The story of Kabul Express takes a look at the human side of Taliban and recounts how Pakistanis are being lured into this movement in the name of religion. There is a documentary feel to it, but the director succeeds in creating drama by putting five characters of different background (2 Indians, 1 Pakistani, I American and 1 Afghani) with each one them having their own agenda. The direction is good with a realistic approach. There are good doses of situational humour. Screenplay of the film is good though the story is predictable. The following scenes in the film are noteworthy –
1. The entire thread of the cigarette request.
2. Taliban and Arshad Warsi fighting about Number one all-rounder (Imran Khan or Kapil Dev)
3. When John Abraham does pushups, an Afghani kid smiles at him. Abraham asks him to come to him so that he could make him do the same. When that kid gets up, Abraham realises that he does not have a leg (effect of Afghan war)
4. The most heart touching scene in the film is the one in which Taliban meets his daughter.
Other departments: Cinematography by Anshuman Mahaley is excellent. He has shown the vast landscapes and ruins of Afghanistan in a stark aesthetic manner. Background music and rerecording is very good. Editing is adequate. Yashraj Films need applause for producing a realistic film like Kabul Express.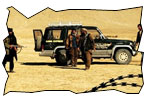 Analysis: The first half of the film is neat and second half is very good. Though the film has the structure of a documentary, the director Kabir Khan succeeds in injecting humour and drama seamlessly. In this process, the director sometimes willfully ignores treating the two Indian journalists in serious way. The story of the film is predictable. Overall, Kabul Express is a good film that caters to multiplexes.
Jeevi reviews of previous films
Baabul
Dhoom 2
Vivah
Don
Dor
Phir Hera Pheri
Fanaa
More Reviews