July 3 , 2008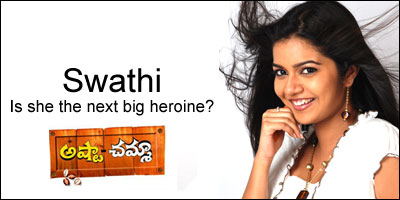 For anyone who watched "Adavalla Matalaki Arthale Verule", Swathi stole the show in the second half with her performance. Pitched against probably the best star performer in comedy, Victory Venkatesh, Swathi could match expression to expression and that was a huge compliment to her acting prowess.
But does Swathi have it in her to make it to the big league? Is acting and performances only secondary? Is glamour and skin show a bigger marketing sell for producers and directors? And if it is, will Swathi also change and attempt to become a marketing proposition for the Film Industry? That is a million dollar question!
Knowing Swathi and her background (Father in the navy, studied mostly in Armed forces school, no filmi "connections", etc. etc), our guess is she will not go down that path. She is happy in her own world, believes in doing what she enjoys doing, reading books, playing on Nintendo game boy, et al! Whether acting and performances will become primary, yes, of course they always have been.
K Raghavendra Rao, the colossal director who launched many faces, once said in a casual conversation, "Success brings glamour to the very face which you never thought highly of before," which means that "glamour" is something that grows on audiences and Swathi could actually be the next big heroine. Indian cinema had actors of the prowess of Shabana Azmi, Smitha Patil, Jayasudha, who were not born glamourous but grew on audiences over time.
Look at the picture gallery of Swathi. She is no longer the little kid who anchored "colors" program. She is now a young and pretty woman, with sparkles in her eyes and a charming vulnerable look that every heroine yearns for! What more does a director need in a movie?? I guess that's what Mohana Krishna found in her for "Ashta Chamma"
Way to go, Swathi!!
Introducing Nani in Astha Chemma
Know about Srini Avasarala (another find for Ashta Chemma film