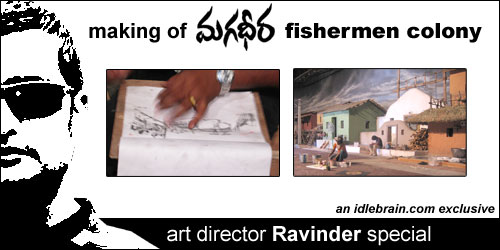 18 August 2009
Magadheera movie became a landmark film in the history of Telugu cinema by collecting unheard amounts at box office. Magadheera is a technicians' delight and we are in the process of getting their special interviews. In an exclusive series of interviews to idlebrain.com, art director Ravinder R explains us about various sets he has done for Magadheera movie.
Fishermen Set
for Magadheera film
I was summoned to do fishermen colony set for a couple of scenes and 'jorse' song (click here to see Jorse video song). The set should look like an outdoor location, but need to be constructed in an indoor floor (1st floor of Annapurna studios). I constructed exteriors of around 28 houses in that floor with detailed interior plan for the house of Srihari (photo). I also constructed a small boat (photo) and a big wheeled fish with thermocol (photo). Nobody realised that it's an interior set when they watched the movie on the screen. The entire set is done in a limited budget of fewer than 30 lacs rupees.
When director wanted smoke-effect for a shot I held the heavy smoke machine on my shoulders in a low angle for the required effect.
Other sets of Magadheera:
Bridge
Making of chariot