'Don't believe in trash' says Vyjayanthi movies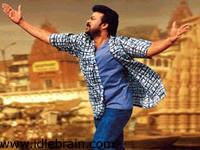 Its been widely reported on internet by few web sites that B Gopal has differences with Chiranjeevi and Chiranjeevi is ghost directing this film. When contacted by idlebrain.com, the most reliable person from Vyjayanthi office informed idlebrain.com that all those rumors are pieces of imagination. B Gopal is a non- controversial person. These rumors aroused because B Gopal was not present at the audio function of Indra, which was covered by idlebrain.com on 14th of June. The reason for his absence is that he was away in Cadana for Allari Ramudu film. B Gopal would be present at the platinum disk function of Indra, which is expected to be celebrated very soon. According to the source at Vyjayanti office, the audio created record in sale as the 5 lakhs units of audiocassettes and CD's were sold out in the first two days. When asked about the rumor of Chiru playing duel role, Vyjayanthi movies told that they won't reveal anything about the story and one has to wait and see the film in public theaters to come to know about story and characterization of Chiranjeevi. This news article is initiated when we got 100's of mails from concerned Telugu film lovers on the net asking us to get the official version of Vyjayanthi movies. We hope this assurance for Vyjayanthi office puts a lid on these baseless rumors.
Venky as 'Narasimha Reddy'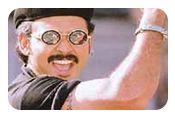 Venky is going to try his hand at periodical films with a prestigious project that is based on the life story of Vuyyalawada Narasimha Reddy, the great freedom fighter of Rayalaseema. Durga Arts, which produced Santosham recently, is contemplating on producing this film. Jayant might direct this venture. The story of Narasimha Reddy was serialized on DD around four years back. Paruchuri brothers are being roped in to do the script work. Rest of the details are being worked on!


Sunil writes his own comedy scenes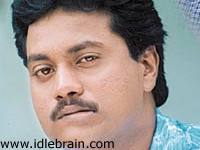 Sunil, the latest comedy sensation on Telugu screen, is also a good writer. He loves writing comedy sequences for his film. In the latest blockbuster Santosham, he wrote a couple of scenes himself. The first one is the scene, in which he composes steps for Prabhudeva and the dialogue 'naaku telisi ee prapanchamlo muggure bhayankaramaina dancers. Jyoti Lakshmi, Jayamalini, Silk Smita'. The second scene is the one in which he talks in english by reproducing a lesson he learnt during his intermediate. Sunil is the highest paid comedian now. He is charging more than 5 lakhs (up to 10 lakhs) per assignment now.

Tanu Roy feels cheated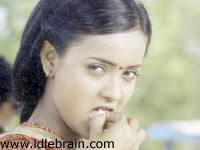 Tanu Roy made a dream debut as the unglamorous girl next door with the film 'Itlu Sravani Subramanyam'. Later on she acted in Usha Kiron movie's 'Anandam', as the girl who suicides because of love failure. Her third movie is 'Manasanta Nuvve' in which she played the role of a supporting actress. She recently revealed that the producers have told her in the beginning that she has a role, which is at par with heroine. They even picturised a song on her and Uday Kiran. But they trimmed it in editing time to maintain the length of the film. She started getting offers for similar supporting roles there after for which she is saying firm no.