Story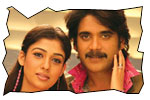 GK (Nagarjuna) is the boss of a construction company. Anuradha (Nayana Tara) is an orphan. GK appoints Anuradha as his secretary after taking a note of her self-righteousness attitude. She develops attitude problems with him. After some time, she falls in love with GK and proposes him. But GK has a problem. The rest of the story is all about how it all ends well.
Artists Performance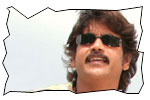 Nagarjuna: Nagarjuna is very charming as the Boss. You can see his 'Ninne Pelladatha' kind of magic in heroine teasing scenes of Boss. He is highly energetic and very enthusiastic in dances. Nagarjuna has a unique style of doing subtle comedy and he generated lot of entertainment in this film. On a whole, Nagarjuna brought vibrancy to the Boss character with his interpretation.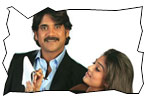 Others: Nayana Tara is probably one of the very few heroines who look gorgeous on sarees. She is awesome both in terms of looks and performance. Poonam Bajwa is adequate. Sunita and Sowmya dubbed the voices of Nayana Tara and Poonam Bajwa respectively. Shriya is cool in a cameo role. Saloni did an item song. Sayaji Shinde acted as the villain and he has a limited role. Sunil is good as hero's friend. Ali is entertaining as 'Nagarjuna Sagar'. Brahmanandam's role also offered good entertainment. Nassar and Sumalatha are adequate.
Technical Departments: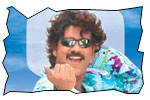 Story - screenplay - Direction: The basic plot of the film is inspired by the Hollywood flick '2 weeks notice' (Hugh Grant & Sandra Bullock). Director VN Aditya succeeded in handling the first half pretty well without revealing any story. The comedy timing is good. The lighter moments are dealt well. But he could not get the emotions right in the second half. Screenplay in the second half should have been better.
Other departments: Dialogue work by Chintapally Ramana is an asset. There are punch oriented one-liners as well as thought provoking dialogues like 'Iddari Madhya Ego oka chinna gummam lantidi. Evaro okaru talavanchi gummam daataali'. All songs in first half and 'Hello Boss' in second half are good. Background music is neat. Cinematography is good. Stunts by Vijay are neat and realistic. Anand Sai used pleasing colors. Editor Marthand K Vankatesh experimented in editing style by using a sliding photograph of Nagarjuna on screen whenever he makes a good impression on Nayana Tara. Production values by D Siva Prasad Reddy's Kamakshi banner are good.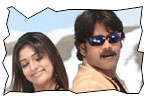 Analysis: First half of the film is pretty entertaining. The second half should have been handled better as it encapsulates the main story of the film. Plus points of the film are Nagarjuna, Nayana Tara and the first half. On the flipside the makers should have taken care of the last 25 minutes as the climax point keeps advancing with a few predictable twists. You may watch this film for an entertaining first half.
Boss links
• Hari on Boss
• Audio review
• Nag interview 1
• Nag interview 2
• VN Aditya interview
• Kalyani M chitchat
• Photo Gallery
• Working Stills
• Wallpapers
• Trailers
Abroad: USA | Australia | UK
Jeevi reviews of previous 5 films
• Stalin
• Andala Ramudu
• Bommarillu
• Amma Cheppindi
More Reviews