Story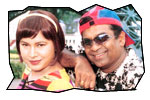 Veera Shankar (Aryan Rajesh) falls in love with Arti (Deepika) at the first sight. But he is supposed to marry the daughter of a Seema factionist Bakkanna (Kondavalasa). Bakkanna summons goon to finish off Arti. Veera Shankar travels to Bangkok for a bit of fresh air. He stays in a hotel owned by Telugu people. There he finds a flurry of interrelated weird incidents happening around him. And all of these incidents are somehow connected to Veera Shankar. The rest of the film is all about how these weird Telugu characters find solace.
Artists Performance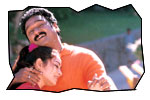 Aryan Rajesh is OK as Veera Shankar. But he is at sea in this film as he seems to be the only serious guy among funnies around him. EVV Satyanarayana made sure that his son Aryan gets major slice of cake by having 4 richly canned songs and a serious fight. Heroine Deepika looks interesting. Among the various funny characters, only track that evoke few smiles is that of 'Krishna Bhagawan - Telangana Sakuntala' (though pretty vulgar). Telangana Sakuntala did the role of Kadapa Reddemma who sexually molests her husband Krishna Bhagawan on daily basis. 'Drawer episode' (Brahmanandam - Kovai Sarala) evoked the biggest applause. All other comedians fail to evoke any humor.
Technical Departments: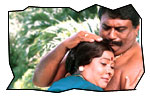 Story: Larsco entertainments unit has taken the story of Hollywood flick 'Blame It on the Bellboy' as an inspiration for this film. There is no need of a Bangkok backdrop for this film. This could have been shot at Vizag as well for a very less budget. This story has a chaotic timeline and offers no logic.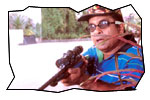 Screenplay - direction: Director EVV Satyanarayana is still following the same old pattern he has been practicing since Chevilo Puvvu. He should realize that the tastes and appetite of Telugu audiences changed long back and EVV need to upgrade his style of filmmaking. This film fails to evoke any humor due to hackneyed direction. The screenplay of the film is illogical. EVV has shown women in a bad light again in this film. Here are few episodes that shows how women and sex are perceived in this EVV film -
1. The flashback of the film starts with a song that has mother (Jaya Lalitha) telling the secrets of prostitution to her daughter (Abhinaya Sri). And the dialogue writer later refers to this song as folk song.

2. The heroine comes to Bangkok and enters to room of hero as call girl.

3. Jyothi - a film-crazy girl - utters 'Samarpinchukunta' (double entendre) to Ali and Dharmavarapu all the time.

4. When Brahmanandam points out that a Bikini girl has come in between him and his shooting target, his assistant Lakshmipati goes to that bikini girl and pulls down her bikini.

5. Telangana Sakuntala sexually molests her husband Krishna Bhagawan on daily basis.

6. Jaya Prakash Reddy wears a single turkey towel through out the film and the subsequent incidents portray him as a gay who is after a male hotel bearer.
Dialogues: Most of the dialogues fail to evoke any comedy. However there is one particular scene in the film that had the entire theater in splits.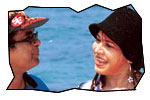 Scene: Brahmanandam adjusts his gun to shoot Kovai Sarala on the beach of Bangkok. But a foreign lady wearing a bikini comes in between. He summons his assistant to go remove the bikini (girl) so that his shooting target would be clear. Lakshmipati goes there and pulls down the bikini. Lakshmipati gets beaten up by everybody. Then Brhamandam approaches and try to impress Kovai Sarala by uttering following dialogues
Brahmanandam: Orey. Eemeki full battalu konukkotaaniki dabbulu leka, papam ee bikini tho batukutunte, daanni kooda laagi deeni seelam battabayalu chesavu.
Brahmanandam: Oka restarant owner manamiche dabbulakosam food pedataadu. Oka taxi driver manamiche meter dabbulakosam taxi naduputaadu. Kaani ye swardham lekunda, ye pratiphalam aasinchakunda aadadaani seelam kaapudutundiraa ee drawer.
Brahmanandam: aaru adugula cheera kapadaleni seelaanni, ee aaru inchula drawer kapadutundiraa.
Kovai Sarala: Yabba! Yemi chepparu saar drawer gurinchi. Inni vishayalu meekela telusu saar!
Brahmanandam: Endukante nenu drawer vesukonu kabatti.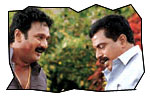 Other departments: Music by Kamalakar is adequate. But the selection of tunes by EVV is pretty old-fashioned. Photography by Srinivasa Reddy is good. Production values by Larsco entertainments are grand. 90% of the shooting is done in Bangkok and 70% of it was done in a hotel. The locations for songs are also good.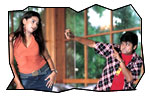 Analysis: First half of the film is mediocre and second half is bad. The 'drawer episode' in first half evoked good laughter and the 12-minute song in climax offers variety. This movie suffers with lack of comedy timing and lots of vulgarity. The main drawbacks of the film are lack of story and half-baked script. There are no emotions as well. EVV disappoints again with another comedy. Fate of this film would depend on how B and C centers' crowds take it.
Evadi Gola Vaadidi links
Audio Function
Photo Gallery
Chitchat with EVV
Jeevi reviews of previous 5 films
Dhana 51
Nuvvostanante Nenoddantana
Naa Alludu
Balu
Mass
More Reviews