Story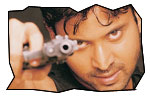 Dhana (Sumanth) is a dynamic graduate who mingles with his ex-college students. His lifetime ambition is to become a cop. He wants to become cop genuinely without giving any bribes. He befriends a beautiful girl Lakshmi (Saloni), who happens to be the daughter of honest and most powerful Police Commissioner Mahesh Chandra (Mukesh Khanna). Dhana and Lakshmi become best buddies over a period of time. Dhana gets fed up with bribery system in police selections and he decides to start a musical instruments shop to make a living.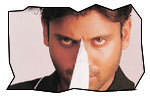 Mahesh Chandra then convinces Dhana to act as undercover police agent to book dangerous goons in the city. Dhana pretends as rowdy and give leads of other rowdies to Mahesh Chandra. Mahesh Chandra's plan is to have open jail for all these goons and rehabilitate them as good citizens. Just when Dhana completes getting 50 rowdies to the book, Mahesh Chandra does the act of turning around. He books Dhana as 51st rowdy as an act of revenge for attracting his daughter. The rest of the story is all about how Dhana 51 proves himself innocent and get back to Lakshmi.
Artists Performance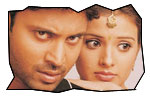 Sumanth is good as a youngster with conviction. His commitment as an actor could be seen in vital scenes on the film (climax and interval block). Saloni looks pretty good in looks and her histrionics need to be toned a bit. Mukesh Khanna should be appreciated for retaining his voice for dubbing. His Telugu dubbing is good when you consider the fact that he is a Bollywood actor with no grip over Telugu language. He suited the role very well. The lean guy in first half generated good comedy with his mannerisms and dialogues. The comedy track of Kondavalasa and Ali is unimpressive. Raj Kumar is adequate as the bad guy. Tanikella Bharani and Dhamavarpu are appropriate. Director R Soorya Kiran and actress Kalyani gave special appearances.
Technical Departments: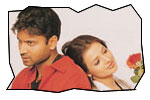 Story: Story of the film is an interesting one and has the potential to click if handled properly. It is about a middleclass boy with an ambition to become a cop getting close to a girl. That girl's father - a police commissioner - notices that his daughter is giving more preference to a man who is other than her father. He gets jealous and fixes the boy on false charges. That boy solves the entire issue without breaking the heart of girl and without causing heart burn for her father. The story has positive orientation and scope for emotion and feel.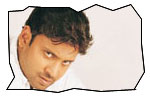 Screenplay - direction: The direction by Soorya Kiran is good in patches. But the screenplay of the film is pretty haphazard. The characters of the film are not well rounded. The director failed to establish the characters. The narration of the film is not gripping enough. At times, the clarity is missing in the narration. Soorya Kiran could not do justice to a good storyline. The open jail systems and procedures are not properly explained. The following 3 characters are the important ones and their characterization is not clearly done
1. There is no balance and clarity about Dhana's twin aspirations to become a cop and his willingness to befriend (love?) Lakshmi.
2. Lakshmi's feelings (love or friendship) towards Dhana are bit confusing through out the film.
3. Characterization of Mahesh Chandra lost its sheen because the agony he is going through when the daughter whom he adores the most is falling in love with a guy and she starts lying to him.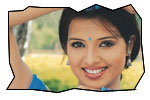 Other departments: Music by Chakri is just average. A couple of melodies are good though. Cinematography by S Arun Kumar is so so. The colors used for sets, background materials and costumes are not pleasing to eyes. Stunts by Vijay are good. Dialogues by Ravi and Soorya Kiran are adequate. The dialogues would have got noticed if they were backed by strong situations. Production values by Keerthi Creations are good.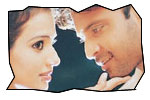 Analysis: The initial part of first half is uninteresting. The buildup towards interval is interesting. The second half of the film is not handled enough to sustain interest. The climax point is interesting. Dhana 51 suffers with inadequate screenplay, uneven narration and confused characterization. 'Dhana 51' is most unexpected from a director who made his debut with 'Satyam' film. We need to wait and see how this film performs at box office.
Dhana 51 links
Audio Function
Press Meet
Photo Gallery
Jeevi reviews of previous 5 films
Nuvvostanante Nenoddantana
Naa Alludu
Balu
Mass
Vijayendra Varma
Vidyardhi
Leela Mahal Center
More Reviews