Story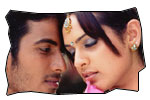 Salim Ibrahim (Rahul Dev) rules the menacing mafia world in Mumbai. His main business is extortion. He collects extortion money from construction companies, film producers, hoteliers and other distinguished wealthy fellows. He demands 2 crores from the chairman of Andhra-based engineering college in Mumbai. And he kills the chairman and his brother for their refusal. The last inheritor in management closes the college to save his skin. The closure of college results in suicide deaths of few needy students, whose only hope for survival is education. The students force the reopening of college. The story of the film is about how a student Kranthi (Ramesh) saves the college from the jaws of mafia by killing Salim Ibrahim and his notorious gang of contract killers.
Artists Performance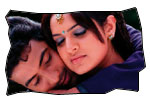 Ramesh is the latest addition to the heirs of Telugu film personalities. He is the son of RB Chowdary (producer of Supergood Films). He is flexible in dances. His body language is OK. But he does not hold enough charisma to grab the attention of Telugu film lovers. Aditi Agarwal is adequate and she has a very passive role to play in this film. Prakash Raj is good, but the characterization by director is ineffective. The comedy track involving Brahmanandam and Kovai Sarala is routine. Rahul Dev excelled in the villain role. Youngsters like Venu Gopal, Anil, Kaushal etc who accompanied hero are fair.
Technical Departments: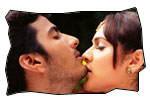 Story: The frail thing about the story is the connection between first half and second half. The first half contains hero teasing the heroine. The second half consists of hero begging for pardon from heroine. This thread is the weakling of the film. The second half has entirely different backdrop of hero assassinating mafia gang in Mumbai. The concept of students fighting for survival of their college reminds us of 'Sye' film.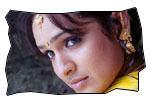 Screenplay - direction: Balachari, a Tamil guy, made his debut as director through this film. He could not maintain grip on narration of the film. Screenplay of the film is flat. However, there are a few shots in the film that are impressive. The director could not balance the story of first half and second half. The director could not elevate the heroism and the hero's mannerism in this film is very unimpressive.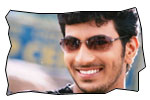 Other departments: Music of the film is mediocre except for the melody song Oke Okkasari. The picturization of title track is good. Dialogues by Balachari and Ravi are mediocre. Cinematography by Srinivas is satisfactory. Production values by Supergood Films banner are good.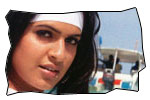 Analysis: First half of the film is boring. The entire story runs in the second half. There is no proper flow and balance between first half and second half. There are quite a few double entredres and suggestive mannerisms in the first half college scenes of the film. Director's lack of grip on narration and time-tested storyline might become the factors that work against the film.
Vidyardhi links
Photo Gallery
Muhurat
Jeevi reviews of previous 5 films
Leela Mahal Center
Konchem Touchlo Vunte Cheputanu
No
Suryam
Sakhiya
More Reviews