Story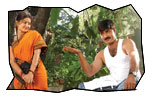 Gopalam (Srikanth) performs Tapassu and gets Radha (Sneha) as his wife. Gopalam is an assistant public prosecutor. Radha is the daughter of Judge (Rangnath). She applies for law degree after marriage and passes the exams with high honors. Radha is superior and more talented than Gopalam at work. This trait infuriates Gopalam and causes a rift between Radha and Gopalam. The rest of the story is all about how they survive the ego tiff.
Artists Performance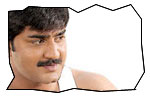 Srikanth: Srikanth did the role of different shades in this film. His role in first half is cute with shades of 'Budugu' in the character. There is lots of innocence and mischief in his character in 1st half. However, it turns into a character of helplessly vice in the second half. His imitation of NTR in dialogue delivery for certain dramatic scenes is good.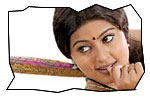 Sneha: Sneha is really good in this film as Radha. Her homely frolics and seduction tricks are awesome (thanks to Bapu). She wore the attire of sarees most of the times by epitomizing the essence of Telugu woman. Dubbing by Sunitha is excellent. She modulated her voice to suit the sensibility of Bapu bomma.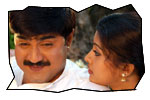 Others: Ranganath and Rajyalakshmi are adequate as parents of Sneha. Divyavani did an important character in this film. She has put on lots of weight and it's sad to see Bapu Bomma like Divayavani in a role like this. Venu Madhav did the role of Divyavani's husband who has illegal affair with another lady (Jyothy). MS Narayana is brilliant in a cameo and he imitated the dialect of Mada (from Muthyala Muggu) for this role. Brahmanandam and Dhrmavarapu created bit of comedy.
Technical Departments: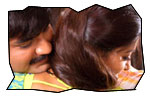 Story - screenplay - direction: The basic storyline of the film is about how a husband reacts when his wife progresses better than him in the same career. Screenplay of the film is very sluggish. Bapu's style of showing the romance between husband and wife is awesome. But by concentrating more in small things, Bapu missed big picture. The main conflict between husband and wife is not established in a convincing way. The characterization of Radha is consistent. But the characterization of Srikanth is inconsistent. He is cute in first half and behaves rather ambiguously in second half. There should be a conflict in any story which should be resolved by the leading man (or woman) by the end. The conflict created between the lead pair is not proper one. The conflict is not resolved towards end which made climax appear abrupt.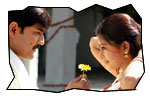 Music: Music by Mani Sharma is excellent and is in Bapu's style. Each and every song is unique in its own way. Sathamanam Bhavati is a great song with meaningful lyrics. 'Vaalu Jada' song is another unique song that describes new angle in romance. The Tolikodi song (penned by Mullapudi Venkata Ramana) is also good.
Dialogues: Dialogues by Mullapudi are sensible, but a bit old fashioned. The language is not contemporary. However there are meaningful yet satirical ones like 'Prema pasa - Pelli nasa'.
Other departments: Cinematography by PRK Raju is adequate. Editing by KN Raju is fair. ART by Narayana Reddy is OK. Choreography by Srinivas and Suchitra is nice. Production values by Sri Creations are good.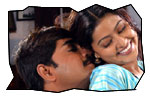 Analysis: The film starts with a song and by the times titles are completed two songs are over. 80% of the first half is concentrated on post-marital romance between lead pair. Second half of the film is bit boring. Climax is very abrupt. The plus points of this film are Sneha, Mani Sharma's music and Bapu's romantic scenes. Negative points are lack of justifiable conflict, pathetically-slow narration, old-fashioned filmmaking, redundancy in locations (home and court room) and abrupt climax. We do definitely expect a better film from the legendry duo of Bapu-Ramana. We have to wait and see how this film fares at box office.
Radha Gopalam links
Photo Gallery
Wall Papers
Press Meet
Jeevi reviews of previous 5 films
Sankranthi
Manasu Mata Vinadu
Dhairyam
Orey Pandu
Are
More Reviews