Story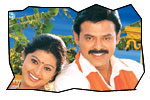 Raghavendra (Venkatesh), Vishnu (Srikanth), Chinna (Siva Balaji) and Vamsi (Sarvanand) are brothers. Raghavendra and Anjali (Arti Agarwal) fall in love and they are relatives as well. They get engaged with the consent of parents. But Raghavendra's family looses everything they have due to certain incident. Anjali's parents reject Raghavendra on the basis of poverty. Raghavendra decides that he should make good money, buy a house and have all comforts before marriage. He achieves his targets. Then he marries a good-hearted and responsible girl (Sneha). Later on, they settle Vishnu's match with the sister (Sangeeta) of Anjali. Vishnu's wife is a woman of jealous nature and short temper. Due to her jealous behavior, there are certain problems. The rest of the film is all about how these strong-willed brothers keep the joint family together and reap the benefits of it.
Artists Performance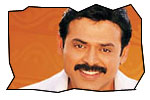 Venkatesh: The character of Raghavendra is just perfect for Venkatesh. His character demands few dialogues and very strong histrionics. His image as ladies man goes very well with this characterization. The way he expresses the sense of sacrifice with a water vapor on his eyes is excellent and unique. He neither dominated the role nor underplayed it. His performance in this film is ideal.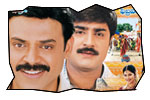 Srikanth: Srikanth should be feeling lucky to get such a nice character. If there is one character that dominated Venkatesh's character and justified it, it is the character of Srikanth. His role too has certain sense of stoicalness to it and demands controlled performance. Srikanth's performance is great (thanks to characterization as well).
Siva Balaji: Siva Balaji has a meaningful role in this film. He has a duet with Rathi. And there is an excellent scene in the climax, which elevated the role played by Siva Balaji. He is good.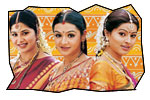 Heroines: Arti Agarwal did a vital role that has very less screen presence. It is good to see her after a long gap. Sneha is good as an understanding family member. Sangeeta did a role that is driven by jealous and short temper. She is flawless. Rathi is OK in her small role.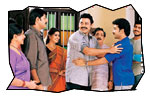 Other characters: Sarada is good as mother of Venkatesh. Sarvanand is satisfactory. Prakash Raj is impressive. Sudhakar did a role of servant. He has gone out of shape and seems to be finding it difficult to even utter dialogue properly. Ravi Kondala Rao did a different role in this film. Venu Madhav did a spoof on Shankardada, Mass and Gharshana. Mass's spoof is hilarious where as the spoofs of Shankar Dada and Gharshana are ineffective.
Technical Departments:
Story: Story of this film is based on the concept of joint family. This story deals with keeping all the family members together and protecting each one of them from the threats.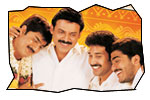 Screenplay - direction: The best thing about this film is characterization. Characterization of each and every character is precisely defined. Screenplay of the film is good. Direction is satisfactory. When you make a film with 4 heroes and 3 heroines, it is very difficult to balance the story. Muppalaneni Siva did a fine job in doing the perfect balancing act. He should also be appreciated for handling the sentimental scenes with authority. The narration of the film is done in a very systematic way without disturbing the flow of content. Here are three best scenes (all in second half) that touch your heart instantly -
1. The scene in which Venkatesh indirectly scolds Srikanth for the first time.

2. The entire episode of Sangeeta finding pass book and the scenes that followed.

3. Siva Balaji's final retort to Prakash Raj.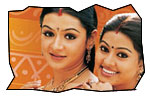 Music: Music by SA Raj Kumar is average. All the situational songs in this film are good. However, the duets appear like speed breakers to the narration. Background music of the film is OK. The heard-before instrumentization makes this music mundane. The music director should make sure that the non-Telugu singers pronounce words in right way. I had to really put in lot of efforts to make out 'Cheppaleni' and 'Chantipapa' words in 'Andala Srimatiki' song.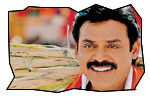 Other departments: Dialogues by Paruchuri brothers are very good. Their sentiment dialogues are very heart touching. Cinematography by Bala Murugan is fair. Editing by Nandamuri Hari is good. Production values of Supergood banner are adequate. The filmmakers should be appreciated for making a good film on the concept of joint family.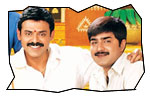 Analysis: First half of the film is good and it establishes and defines each and every character. Second half is more effective because the director could really bring heavy emotions out and end the film smoothly. All the scenes involving Venkatesh and Srikanth in the same frame are great. Positive points of the film are great characterizations, neat performances, well-handling of emotions. On the flip side there is less quotient of comedy. Music is average. I recommend this film to everybody. Everybody should watch this film along with their family members to realize what they really miss in real life. This film also reminds us how to behave with our family members and how to share love/affection.
Trade Talk: This film got universal hit talk from the word 'Go'. Family ladies would take this film to a big range.
Sankranthi links
Photo Gallery
Audio Function
Press Meet
Wall Papers
Schedules
USA | Australia
Jeevi reviews of previous 5 films
Manasu Mata Vinadu
Dhairyam
Orey Pandu
Are
Pandem
More Reviews