Story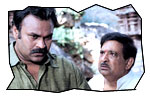 Chinna (Baladitya) is the son of Ramaraju (Nagababu), a landlord. Chinna's mother died when he was a kid. Chandram (Chandra Mohan) is Ramaraju's friend and a popular author visits their place when Chinna turns 22. Then it is revealed that Chinna is the son of Chandram, who was taken away by Ramaraju in order to keep his Vamsam (dynasty) going. The rest of the story is all about whom Chinna prefers to stay with.
Artists Performance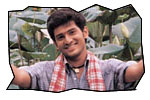 Baladitya is good in the role of son who struggles between two fathers. He is excellent in histrionics department. However, it is pretty hard to see him doing many solo songs. Nagababu is adequate as selfish guy who snatches his friend's son. Chandra Mohan is neat as the writer.

Technical Departments: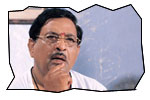 Story of the film appears pretty old. The sentiment value would have been enhanced if two mothers fight about the son than the two fathers. In order create a 3-charcter film, the director deliberately avoid shooting the film in public places and confined the locations to a limited number. There are many redundant shots in the film. Direction of the film is sloppy and screenplay leaves a lot to be desired. Music is not up to the mark. Photography is just average.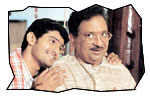 Analysis: Number of characters in the film is three. Story point of Vamsam is very small. Locations are limited. And the duration of the film is over two hours. It is very difficult to make such a film with so many limitations. The director has given very old-fashioned treatment to the film which made it a boring proportion to the audience. On a whole, this film disappoints big time.
Vamsam Links
Photo Gallery
Jeevi reviews of previous 5 films
Modati Cinema
Bhageeratha
Premiste
Allari Pidugu
Chatrapati
More Reviews