August 12, 2008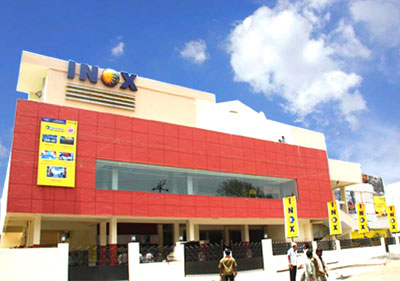 Vijayawada's love for film has been talked about for many years now. People here love to watch films for two reasons… Films continue to be the main source of entertainment and the town has ardent fan following. With many super heroes and their countless fans, Vijayawada turns in to a festive wada with release of each big film.
Vijayawada's moviegoers recently found a new and exciting location to view the latest movies with the opening of INOX at Gandhi Nagar. The theatre houses 3 screens and 1087 seats. For people like me who love to watch films but never venture in to theatres in the first few days of release because of difficulty in getting tickets and also in order to avoid the fan mania, INOX came as a blessing in disguise.
Watching films has never been so easy. Now, when I want to watch a new film, I just open my laptop, choose the film and the seating, enter my credit card details and that's it…I'm ready to leave. I have my tickets on my mobile screen This motivated me enough to watch even two movies on some Sundays.
Entry of INOX to Vijayawada only proves that India's multiplex bandwagon has gone beyond the metros to redefine entertainment in B and C class towns. While the first phase of the multiplex story saw emergence of multiplexes in metros and now this growth is spreading to Tier 2 and 3 cities. With box office collections from non metros, expected to move up by the day why would the giants ignore smaller towns. Fact remains that non metros contribute to 65% of the total box office collections.
Though the feeling of watching your favorite film in INOX is exciting, It goes without saying that it is way beyond the means of a common man. Tickets here are priced at Rs.80/- when you purchase at the counter and Rs.90/- when you book online. Snacks are expensive too. On one side there is an affluent section here which has stopped going to regular theaters for watching films and on the other side there is a section which feels that INOX experience is only for the affluent and not for commoners.
Other Hyderabad multiplex reviews
ADlabs cinemas
PVR Cinemas
Prasads
Cine Planet

Other Vijayawada Theater reviews
Srilakshmi
Sreerama
Saraswathi
Maruthi
Jaihind
Durga
Alankar
Other Hyderabad Theater reviews
Sandhya 35mm
Sandhya 70mm
Sudarshan 70mm
Sudarshan 35mm
Devi 70mm
Hitech