Rajasekhar to do a double role in Ravi Raja Film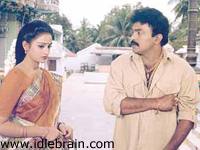 Rajasekhar is remaking the Tamil hit 'Vanettipolai' in the direction of Raviraja Pinisetty. Rajasekhar is playing duel role as brothers in this film. Vanattipolai collected more than 50 crores in gross in Tamil Nadu. Meena is playing the main heroine role in this film. Incidentally she too played the original character in the Tamil version too. Another steamy heroine role is being played by Deepti Bhatnagar. Story of the film is given by Vikraman(of Raja) and music is being provided by Melody man SA Raj Kumar. Producers of this film are bellamkonda Suresh and Sunku Ramesh Babu.
Rachana and Malavika to pair up with Chakri for a new film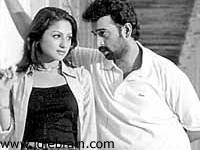 Kodi Rama Krishna who is branded as the minimum guarantee director is going to direct Chakri for the first time. Rachana and Malavika (both these heroines are found by EVV) are going to play female leads along with another heroine who is yet to be selected. This film is a remake of a Tamil hit film 'Velayan Siripal'.
Shooting of this film will start on 15th of September and would get finished in a single schedule by 9th of November. Audio recording of this film will start on 25th August. Devisri Prasad will provide the music. P Rajendra Kumar will provide the dialogues. This film is being produced by Ms. G Aruna Kumari on 'Sri Saptagiri Chitralaya' banner.

Pop Singer Smita enters Telugu Film Industry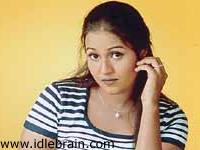 Smita, who got instant nationwide recognition with her Hindi pop album 'Hai Rubba Hai' has sung her first song for a Telugu film. She rendered her voice to a song 'Dabuchidara Holare' for a film called 'Antha Mana Manchike that is being produced by Kishore Rathi. Rajendra Prasad and Rachana are playing main leads in this film.
Incidentally Smita is a Telugu girl from Vijayawada. Her Hindi album that is produced by Archies Music has become an instant hit and was later on dubbed into Telugu Audio with three promos.