Padmalaya to go for another misadventure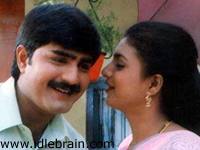 Padmalaya Films that has made a huge loss by remaking 'Suryavamsam' in the direction of EVV Satyanarayana with Amitab is going to make another costly mistake. Padmalaya films is planning to remake the Telugu blockbuster 'Kshemamga Velli labhamga Randi' into Hindi.
Govinda may act in as the hero in this remake. Krishna feels that the story of this film is universal and it will be appealing for the Hindi viewers too. We got to wait and see how this film is going to shape up. In the past Padmalaya Studios have bought the remake rights of 'Toliprema' too.
Who is the next target of Sanghvi?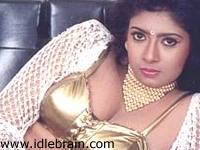 Sanghvi is on a destructive mood. Her first target was Venky and she managed to get a role in Suryavamsam(1998). Next comes the charming Nag and manly Balayya. She grabbed a role each in Seetaramaraju and Samarasimha Reddy respectively. She had to wait for another year to get a chance to pair up with Chiru in 'Mrigaraju'. And she grabbed another meaty role in Raghavendra Rao's 'Manjunatha' in which Chiru is playing the role of Lord Shiva.
When asked about her next target, this sexy dame answered that she want to act with Pawan Kalyan, Mohan Babu and Mahesh babu. it's just a matter of time.

Tirumala Tirupathi Venkatesa trigged off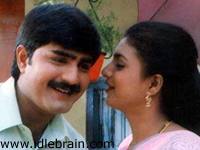 Friendly movies is making a film called 'Tirumala Tirupathi Venkatesa' in the direction of Satti babu( a protégé of EVV Satyanarayana). Srikanth and Roja are playing the main leads. This film is a remake of Tamil hit film 'Tirumala Elumalai Venkatesa'. Brahmanandam, Raviteja and Srikanth are playing the roles of 'Tirumala Tirupathi and Venkatesa respectively. The muhurat of this film took place in Ramanaidu studios yesterday.
Evv Satyanarayana is providing the music. Pinapaka Krishna Prasad is making his debut as a dialogue writer. Chanti and Sreenivasa Reddy are producing this film. Regular shooting of this film will start on 15th September and will be shot in a single schedule thats going to end on 30th of October.
RB Chowdary enters Kannada filmdom with 'Nuvvu Vastavani'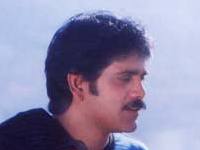 RB Chowdary is remaking 'Nuvvu vastavani' in Kannada with Ravi Chandran. This film is expected to be released on 18th August. Isha Gopikar is playing the female lead in this film. Interesting the hero Ravichandran is directing this film too.
Due to this reason, Supergood film refrained from releasing 'Nuvvu vastavani' in Karnataka. The exhibitors in Bangalore have decided to close the theaters till Dr. raj Kumar is released by Veerappan.


Tailpiece: Maharajan, who directed a film called 'Commissioner narasimha Naidu' is going to direct Nag soon. According to grapevine Supergood films may produce this film.