Srihari Syndicate donates 15.5 lacs for the flood victims.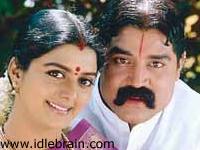 Srihari has donated a sum of three lacks to the flood victims. And he also made sure that all his producers and technicians donate liberally towards this social cause. Here is the list of donations
Srihari - 3,00,000
K Mahendra - 1,50,000 (AA Arts)
K prakash Reddy - 1,50,000 (Panchajanya Creations)
CV Reddy - 1,50,000 (Surothama Creations)
P Balaram - 1,50,000 (Saradhi Productions)
Bhagavan & Danayya - 150,000 (Balaji Arts)
C Kalyan - 1,00,000 (Amulya Arts)
K Jayakrishna - 1,50,000 (Jaya Eswara Movies)
R Satyanarayana - 1,50,000 (Narayana Pictures)
Posani Krishna Murali - 1,00,000 (Writer)
Vijay - 50,000 (Stunt Master)
The total money turned out to be 15.5 lacs. Idlebrain.com commends Srihari for not only donating huge amount for the flood victims, but also making all his producers shell out 1.5 lacs each for the same.
Balayya film to be released on 21st December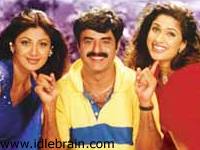 Balayya is busy in finishing the schedules of the B Gopal - Medikonda Murali's film now. The shooting of this film is going on at a rapid pace. They are spending lacks of rupees in the latest shot chase scene that involves a chopper and unlimited string of Tata Sumo cars. This film also sports K Vishwanath in a very critical role. Vishwanath has acted with Nag in 'Vajram' and with Venky in 'Kalisundam Raa' earlier. Simran is doing the role of wife of Balayya. Asha Saini as the sister of Simran. Preethi Gingiani is also acting in another important role.
This is the fourth film in he combination of Balayya and B Gopal. All the three films came in this combination, Lorry Driver, Rowdy Inspector and Samarasimha Reddy were superhits.
Good days are back for Usha Kiron films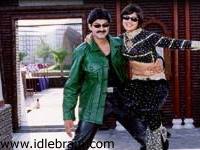 After a string of pathetic flops Usha Kiron, the reigning banner that has the best resources for film making, is back with a bang by giving two consecutive super hits. It was Chitram that sprang every one by a surprise with it's magnitude of hit. It means a lot to Ramoji Rao as he spend just 32 lacks over that film. The next film, Moodu MUkkalata, directed by Raghavendra Rao is getting rave reviews all over and turning out to be a romantic feast for the visitors.
The next film by Usha Kiron is going to be a film titled 'Nuvve Kavali' starring Tarun. We hope the honeymoon of Usha Kiron movies with Box office lasts forever.
Jayam Manadera release postponed to Vijaya Dasami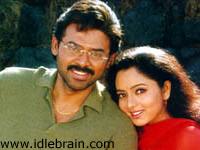 Venky starrer 'Jayam Manadera' release is postponed to Viajayadasami. Hence this film may be released on 6th of October. Even Venky's earlier starrer 'Kalisundam Raa' was expected to be released on 21st December 1999. But It was postponed to Sankranti 2000 release. Same way, release of this film is postponed to another festival 'Viajaya Dasami' to reap the festive mood benefits.
This film is about a legend called 'Rudrama Naidu'. This film is set in the back drop of the Rayalaseema and Ceded areas. This film too had a backdrop of European countries. Directed by Shankar and supervised by the strategist D Suresh Babu, this film is supposed to have the right bled of commercial elements and social justice.