Clash of 3 Titans: Chiru, Venky and Balayya
Hold your breath. On 21st and 22nd of December 2000, three of the most prestigious films of stalwarts of Telugu Cinema are getting released. On 21st, we have the release of Devi Putrudu(Venky, Anjala Zhaveri & Soundarya) and Balayya's film (Balayya, Simran, Preeti Zingyani and Asha Saini). On 22nd December, we have the release of the much awaited Chiru's special effect extravaganza. Anji.
Talking Idlebrain.com, Shyam Reddy, the producer of Anji confirmed that he is going to release Anji on 22nd December. He also informed that the shooting part of Anji would be finished by 15th of October. Upon asking about why he is not releasing it on 21st December, he replied affirmatively that on 21st Devi Putrudu is releasing. So he is giving 'Devi Putrudu' breather for a day. The more logical reason could be 22nd gonna fall on Friday, which is a favorite day for a movie release.
On the other hand, Medikonda Murali Krishna, the transportation tycoon in AP who owns the 'Venkataramana travels' announced that his film with Balayya will release on 21st of December. This film was tentatively titled as 'Narasimha Naidu' as Balayya is playing the role of Narasimha Naidu in that film. One would get a doubt about why everyone is vying for the 21st December slot. There is a logical reason behind it. We have three festivals coming up in a gap of 20 days. They are Christmas (25th December), New Year (1st January) and Sankrathi (14th of January). If they release any day before 25th December, they can capitalize on the festival crowds. Well, for cinema lover the 21st December is going to be a festival!
Rayalaseema Ramanna Chowdary gets rave reviews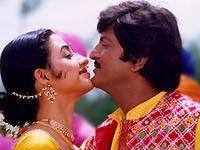 Dr. Mohan Babu's next saga to be released, 'Rayalaseema Ramanna Chowdary' was previewed to the elite cinema industry people on 9th of September. Everybody seems to have been impressed with the film. The people who watched the preview includes Suresh Krishna, Rajni Kant, Panju Arunachalam, AVM Saravanan, Muthuraman, Balachandar and Vithal. Panju Arunachalam is so much impressed with the film that he asked the rights of Tamil version for an astronomical amount for which Dr. Mohan Babu replied with an ambiguous smile. Rajnikant has taken pains to call up Hyderabad and congratulate Paruchuri Brothers (Dialogues), Jayaram (Camera) and Manisharma (Music) for the fabulous work done by them. Dr. Mohan Babu did a dual role in this film. Priya Gill and Jayasudha are the heroines. This film is slated for 15th of September release all over AP.
Story of Tenali revealed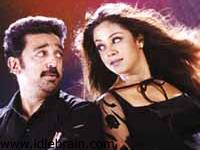 In 'Tenali', the next movie starring Kamal, has the actor playing as a Sri Lankan refugee who is psychologically disturbed. Kamal's psychology problem is treated by two doctors who are played by Jayaram and 'Delhi' Ganesh. The movie focuses how Kamal gets closer to Jayaram and his family. In the movie, Devyani plays the role of Jayaram's wife and Jyothika plays his sister who falls in love with Kamal.
Usually movies which have psychiatry has the theme would be serious but this movie is a light comedy instead. It seems that the highlight of the movie is where Kamal gets scared of a tiny mouse.
Actress Jyothika who is being paired up with Kamal for the first time has been reported to be very happy about the opportunity to act with him. This film is being produced by SP Bala Subramayam (singer) in Telugu. KS Ravi Kumar of Bhamane satya Bhamane and Sneham Kosam fame is directing this film. AR Rehman is composing music. Shooting of this film is over, except for a couple of songs. AR Rehman seems to be having good time in London giving shows out there as the producer of 'Tenali' is desperately waiting for him to compose music for the two songs.
Poori Jagannath's English Film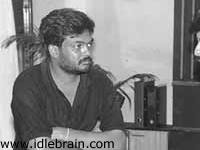 Poori Jagannath of 'Badri' fame is readying a script for an English film. This film is based on a Telugu novel that was written 25 years back by a famous Telugu celebrity writer. Prakash Raj is going to play the main role in the film. The shooting of this film will start in December 2000 and would be completed in a single schedule that is going to last for just 20 days. It will be the dream come true for Jagannath, who fantasized of making that novel as a film right from the moment he read that novel. He also affirmed that though the novel was written 25 years back, it has got a novel point that was never captured on the screen. He is planning to release this English film worldwide, unlike other English films directed by Telugu directors. Apart from Prakash Raj, this film sports all new comers in the cast. Visitors may be aware of the fact that the story for his runaway hit 'Badri' was written 10 years back. Here is a simple quiz question for you . If Poori Jagannath gets a story idea today, when is he going to make it as a film. You have two choices, after 10 years and after 25 years!