Double Trouble: Venky gets a bad deal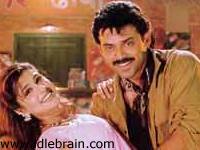 Telugu cinema industry to going through a strange phase now. Starting with 15th of September, there is going to be extra dose of double role dishes to the views of Telugu Cinema. The following films are having a double roles done by the heroes.
1. Ayodya Ramayya (Sri Hari) 2. Rayalasemma Ramanna Chowdary (Mohan Babu) 3. Azad (Nag) 4. Jayam Manadera (venky) 5. Devi Putrudu (Venky) 6. Durga (Roja) 7. Bhargav Arts (Balayya) 8. Remake of Vanattipolai (Raja Sekhar)
Incidentally, Soundarya grabbed three(Azaad, Jayam Manadera and Devi Putrudu) of these eight projects. If we talk about the similarities between these projects, Venky's 'Jayam Manadera' seems to be on the shaky side. First factor is the special effects one. Both Rayalaseema Ramanna Chowdary and Jayam Manadera has same kind of 'Matrix' special effects. Since Rayalaseema Ramanna Chowdary is releasing first, its going to get the credit. Second factor is the 'climax'. Both 'Ayodya Ramayya' and Jayam Manadera have same climax. Since Ayodya Ramayya is releasing on 15th, Jayam Manadera unit is reshooting the entire climax on 16th, 17th and 18th of this month.
Though it's a bitter pill to Venky, he too had his share of release advantage in the past. The balloon song was the first to be shot by Shyam K Naidu for Chiru and Soundarya (Annayya) . But Venky had an advantage as Seenu was released much earlier than Annayya though the balloon song was shot later by Shyam K Naidu. At that time, Allu Arvind had to issue a public press statement before the release of the Seenu by releasing the photographs of 'Annayya' balloon song shots.
Venky is also doing another double role in Devi Putrutu. One role of Venky is as an archeologist who was killed because of the evil plot of the villains. He has a small kid. Later on another role of Venky (a tappori) takes up the onus to save child and decimate the villain gang.
Inspired by Real incidents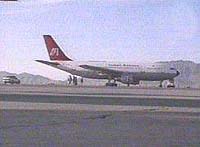 We have two movies coming up with the recent happenings as the inspiration. The first one is 'Mandupathara', which has a scene that is similar to Raj Kumar kidnap episode. Krishna is playing the role of kidnaped. He is acting as the real life Superstar Krishna in that film. Another film is 'Hijack'. This film is based on the tragic December 1999 episode of Kandhar Flight hijack episode. This film has a newly married couple boarding the flight and their travails during their stay as hostages. A popular hero is donning the role of rescuer in this film.