Ranji tried 'Vanatha polai' for Mohan Babu
The buzz in Chennai is that the Tamil megastar is playing mentor to this talented director, Vikraman. The grapevine bug swears that Rajni and Vikraman have had three meetings so far. In the first meeting, Rajnikanth requested to Vikraman to give the rights of Vaanatha Polai exclusively to his friend Mohan Babu. Rajni's requests are considered commands in Tamil Nadu but, much to the shock of the industry, Vikraman rejected Rajni's demand. But instead of losing his cool, the star met the rising director two more times to convince him.
Vikraman, who had promised the remake rights to Raja Sekhar kept his word. Bellamkonda Suresh is producing the remake with Raja Sekhar, Meena and Deepti Bhatnagar in the direction of Ravi Raja Pinisetty now.
Rajnikant, then gave his own script that is written in keeping himself in the mind to Dr. Mohan Babu and named it as 'Rayalaseema Ramanna Chowdary'. The rest is, as they say, history.
Shadow plays an important role in 'Jayam Manadera'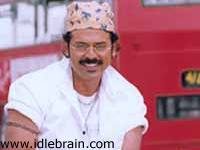 According to Suresh Babu, the produced of 'Jayam manadera', a shadow plays a vital role in this 'Jayam Manadera' film. Paruchuri brothers gave another speculating statement that this film has two characters 'Vishnu' and 'Rudrama Naidu'. And it's a suspense that if both the characters are same or different. The audio of this film will be released on 20th of September. But the cassettes and CDs would be made available to the public on 21st September. This audio sports 6 songs. And it has all leading singers rendering their voices. For the first time, two of the high profile Hindi singers are making debut in Telugu by singing a song each. These two singers are Jaspinder Narula ('Pyar To Hona Hi Tha' title song was her first Hindi song) and Kumar Sanu(the man who shot to limelight after the film 'Ashuqui' in 1991). Vandemataram Srinivas is providing the music. This film is going to have the right mix of power, politics and love. Soundarya is playing the lady love of Venky in this film.