Bhargav Arts film on 9th November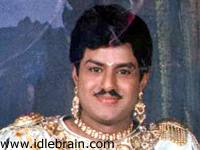 Balayya's crazy venture by Bhargav arts will launch it's regular shooting on 9th November 2000. Talking to the press at Hyderabad on 19th September, Kodi Rama Krishna, the director of the film announced that they fixed on 9th November, as it was sopposed to be an auspicious time for the film of 'Janapada' nature. Nother star attraction of the film is D. Bhanumati Rama Krishna, who is acting as queen in this film. Dusky damsel Bipisha Basu was chosen as heroine for this film. This film is going to be the first Janapada film on Bhargav Arts that is going to have unlimited budget and amazing special effects.
Cheppalani Vundi for Sankranthi 2001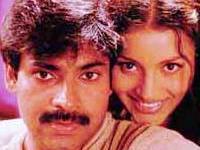 Pawan Kalyan's latest offing in making 'Cheppalani Vundi' is getting ready for the Sankranthi 2000 release, according to the producer AM Ratnam. Unlike Pawan's earlier films, Toliprema, Tammudu and Badri, this film has a director of two films experience. And AJ Surya, being an efficient and organized director is confidant of finishing the shoot of the film by December of this year. AJ Surya has another film lined up for him in Tamil that's have Ajit in the main role. Name of that film is 'NEW'. AM Ratnam, the man who finished the 'Sneham Kosam' in 56 days of shooting is confidant that he will release the film by Sankranti 2000, though Pawan is known to take his own time in confirming the quality standard. Bhumika Chawla is the heroine of this film.
Chiru donates blood on his Mega brothers birthday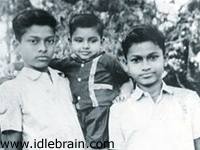 We have witnessed the fans donating their blood liberally for a social cause whenever there is an occasion to celebrate. But Chiru himself has visited his Chiranjeevi Charitable Trust office in Hindi Nagar on 2nd of September, 2000. Do you know the reason why? That was the birthday his of his megabrother Pawan Kalyan. He went to meet Pawan Kalyan and wish him after donating the blood. Do we call it as leading by example?
If you see the image on the right side, you see three cute kids posing for a photograph. They are none, but the megabrothers - Chiranjeevi, Nagababu and Pawan Kalyan. When asked Chiru about that photograph, he remembered that he was studying 7th class at Bapatla at that time when his brothers came to meet him from his home town Mogalturu. At that time Chiru used to be very fond of photos. They posed for a photograph at that time. And now it adorns the home page of http://www.megabrothers.com.
Usha Kiron Film's title is 'Shubhavela'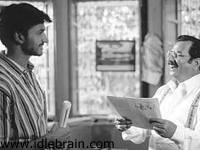 Usha Kiron movies has fixed up 'Subhavela' title for their film being directed by Ramana. Initially they were contemplating the idea of putting the name as 'Shubham'. But at the last minute they changes the name to 'Subhavela'. Like 'Chitram' this film too has all fresh faces. The main leads of the film are being played by Ravi Kanth (from Vizag) and Anasuya (from Orissa).
Another attraction of this film is Teja. Teja of Chitram fame is proving photography for this film. In addition to photography, he also compiled the basic story of the film. Ramana has directed 'peru leni cinema' in the past that has Chakri, Meena and Isha in the main leads. Music is given by RP Patnaik.