Meena to pair up with Chiru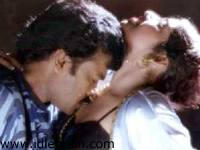 News is that Meena is going to act as 'Parvathi' in 'Manjunatha' in which Chiru is playing Lord Shiva. She paired up with Chiru in 'Mutamestri' and 'Sneham Kosam' in the past. The shooting of 'Manjunatha' resumed recently in Bangalore. The other cast includes Arjun and Soundarya. K
Raghavendra Rao is directing this film. Producer of this film is Nara Jaya Sridevi. This film is being made in all four south Indian languages. JK Bharavi, the man who gave story and dialogues for 'Annamayya' is giving story and dialogues for this film too. Popular Kannada musician Hamsalekha is composing 12 songs and strings of slokas for this film.
Tenali to be released for Diwali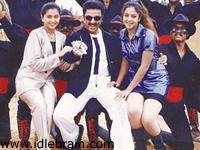 SP Bala Subramanyam has produced two films earlier. They were Subha Sankalpam(K Vishwanath and Kamal Hassan) and 'Bhamane Satya Bhamane' (KS Ravi Kumar and Kamal Hassan). He is producing another film on the banner 'Kodandapani Film Circuits'. This film is titled as 'Tenali'. In this film, Kamal is playing playing as a Sri Lankan refugee who is psychologically disturbed. Two doctors who are played by Jayaram and 'Delhi' Ganesh treat Kamal's psychology problem. The movie focuses how Kamal gets closer to Jayaram and his family. In the movie, Devyani plays the role of Jayaram's wife and Jyothika plays his sister who falls in love with Kamal.
Telugu and Tamil audio of this film is going to be released on 5th of October in Chennai by HMV. This film is getting released in 3 languages namely Telugu, Tamil and Malayalam with 300 prints on 26th of October as Diwali gift.
Suresh Productions in other languages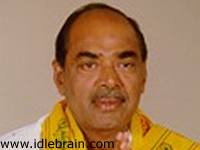 Suresh Production is busy building a national image by producing films in other languages. So far, Dr. Rama Naidu has produced films in the languages of Telugu, Tamil, Hindi, Kannada and Bengali. He is making one film each for Oriya and Assami now. The Oriya film may be a remake of either 'Todikodallu' or 'Naidu Gari Kutumbam'. In Assami, nationa award winner Manju Vora would be directing the film for Suresh Productions. Dr. Rama Naidu's ambition is to produce films in all languages of India. He is going to produce two films in Hindi with his actor-son Venky as the hero. One is a remake of 'Nuvvu Vastavani' in collaboration with Supergood films. Another one is going to be a remake of this year Telugu blockbuster 'Kalisundam Raa'.



Sri Hari gifts Rs 25,000/- to karanam Malleswari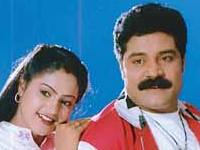 Srihari was a national gymnastic player before joining films. That must have promted him to realize the hardship one has to go through to get an Olympic medal. He gifted Karanam Malleswari, who is all ready rich by the Rs 10 lacs gift by the CM of AP another gift of Rs 25,000/-. He is into heavy sponsoring for the students. He is also sponsoring student aroung 2.5 lacs for his medicine course in Andhra Medical College. Srihari became father of his second son (16th sept) a day after the release of Ayodya Ramayya.