Chiranjeevi Charity extended - on 2nd October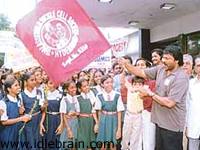 Today is Gandhi Jayanti for the entire nation. But for Chiru fan's it means more than Gandhi Jayanti. Fans. Chiru fans, like any other hero fans, used to be more bothered about how to make Chiru films run for 100 days and how to mud-sling on other heroes till a couple of years back. Chiru announced about his decision to start a charitable trust in 100 days function of 'Master'. And he started 'Chiranjeevi Charitable Trust'(CCT) on 2nd October, 1998 (exactly two years back). It was inaugurated by CM of Andhra Pradesh, Mr Chandra Babu Naidu. It has come a long way after that. Eye donation wing was added to Chiranjeevi Charitable trust. Since it is difficult for the donors to travel all the way to Hindi Nagar, Hyderabad, Chiranjevi Charitable trust has taken a decision to have donor clubs all over AP. To start with, CCT is having 'Chiranjeevi Voluntary Blood Donors Club' in five important cities of AP. These cities are Vijayawada, Guntur, Vizag, Rajahmundry and Hyderadad(Incidentally, these five cities are supposed to be the important cities when it come to Telugu cinema. Even if you observe our cycle stand, out coverage of trade collections include these 5 cities only). Each club would be having members ranging from 2,000 to 5,000. The government has allotted a plat in Road No1, Jubilee Hills for CCT. Here are the details of the five 'Chiranjeevi Voluntary Blood Donors Club'.
Chiranjeevi Voluntary Blood Donors Club
Dakshinya
Door Number: 4-2-16
4th Lane
Laxmi Puram
Guntur - 522 007
Phones - (0863) 350069, 359181, 234005
Chiranjeevi Voluntary Blood Donors Club
Geeta Filsm Distributors
Peddadavari Street
T Nagar
Rajahmundry - 533101
East Godari Dist
Phones - (0883) -444121, 442522, 474830
Chiranjeevi Voluntary Blood Donors Club
Main Road
Laxmi Complex
Opp Seshamahal Complex
Gajuwaka
Visakhapatnam
Phones -(0891) 589352, 514055, 754787
Chiranjeevi Voluntary Blood Donors Club
Dr G Samaram
Vasavya Nursing Home,
Benz Circle
Vijayawada
Phones - 472370, 472330, 572211, 572795, 575401.
SV Krishna Reddy to start 'Swarna Yugam'
SV Krishna Reddy, who delivered a good hit in the form of 'Premaku Velayara' in the last year with Chakri and Soundarya is going to repeat the magic. Taranga Subramanyam, who made a film in this combination is going to produce another film. This film is titled as 'Swarna Yugam'.
According to SV Krishna Reddy, this film is about transforming India into 'Swarnayuram'. He is taking the example of USA and would be making a film in which hero transforms India into 'Swarna Yugam'. This film is going to the same technical crew except for the comedy writer, Diwakar Babu. Dialogue for this film are being provide by Rajendea Babu. Shooting of this film will commence in this month.