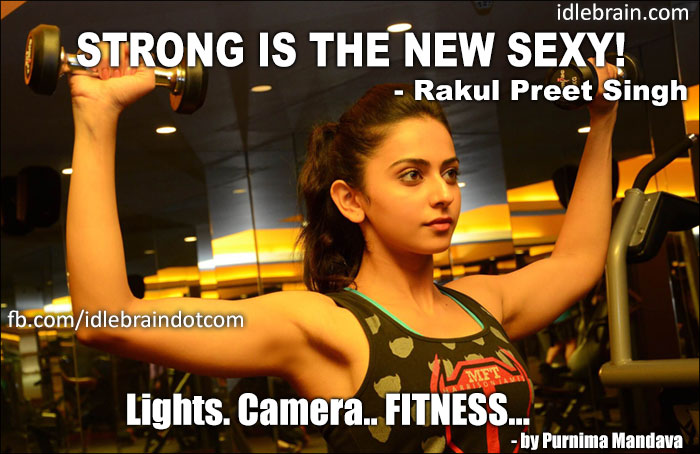 22 April 2015
Hyderabad
Introduction
Hola people! Want to learn how top celebrities maintain those hot bodies, healthy lives and young looking skins, here we come with the extensive list of celebrity workout routines and diet tricks. Yes, they crave junk foods, struggle to take off baby weight and even -- cellulite.. gasp! How do they still look young and sizzling on screen. Here's how! Get set to savour the latest trends in celebrity fitness, diet, health and lifestyle.
Hello people! I have kept you guys waited for long before presenting this story to you all but I am sure your wait would be worth it! I have made a worthwhile discovery of one of the fittest girls of this generation in the film industry. As a wellness professional, who have been watching so many women from the industry I take pride in declaring, Rakul Preet Singh, as the STRONG & SEXY. If you folks think Rakul is just my choice, then I am afraid you are mistaken because Rakul was the choice of the whole nation, she was Miss India People's Choice in 2011 and won various other titles in the same pageant. She bagged, Miss Beautiful Eyes, Miss Beautiful Smile, Miss Fresh Face, Miss Talented and emerged the third runner-up finalist. This beautiful sardarni is an extremely fluent Telugu speaker as well, that shows her love and dedication towards Telugu movies and how much she strives for perfection. No wonder the actress has bagged offers with quite a few big banners in Telugu. She is juggling between the movies, Pandaga Chesko, Kick 2 and a Bollywood venture Shimla Mirch. She has been signed up for two more movies with Jr.NTR and Ram Charan. Our girl has been busy shooting almost everyday but then again, Rakul would never miss her gym routine, any given day she is game for sharing her fitness secrets with you all.
HOW IT ALL STARTED?
Rakul's dad is a colonel in the army. "I am a fouji's daughter, for me there was no question of sitting at home playing snakes and ladders, ludos in house," says Rakul, with a sense of pride about the way she is brought up to be a strong woman. She has done her final years of schooling from Army Public School in Delhi. Here's a rundown of how all this fitness thing started in her life. Right from her 1st grade, Rakul had to come back from school and go for some or other sport. Wow! Gives a nostalgia of childhood. She fondly recalls her childhood when her mother used to bribe her with chocolates to make her play on climbers in the park. Proud of her mother who has inculcated the spirit of sport and strength in her at such a young age! Outdoor activity was a must for our girl, starting with Lawn tennis, swimming, shuttle badminton, basketball, her dad put her into every sports coaching and she played football with boys, she was this tomboyish girl and a sporty person. And wait, did I tell you that Rakul is a Blue Belt in Karate! Her die-hard interests include golf, horse- riding and Bharatanatyam! 'Strong and sexy' doesn't it make sense?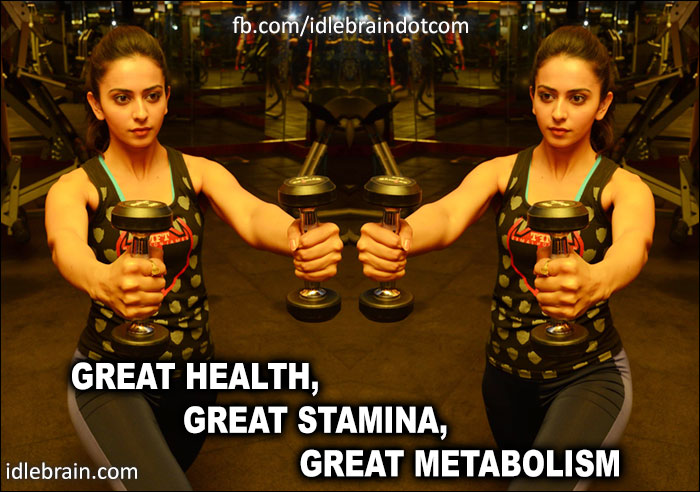 GREAT HEALTH, GREAT STAMINA, GREAT METABOLISM:
Rakul is someone who completely believes in respecting your own body. She thinks body should be given that half an hour a day to release the toxins. She says, "just like we wash our face everyday to remove the dirt off, in the same way we need to wash off the toxins from the body." She doesn't workout to lose weight. And all the young girls out there! Get it straight! Rakul is one such celebrity that works out for great health, great stamina and great metabolism. We all know Rakul has a great body too, but for her it's just a by product. She works out to keep herself fit and does it because she loves yourself. "I am Somebody who enjoys workout, it's not a burden for me, Oh my god I have to stay fit, so I have to workout. I enjoy the whole process of sweating out, if I don't workout for two to three days straight, I start feeling very lethargic, it feels incomplete," says this hot and happening lass. The flip side people, is that, a lot of her friends say she should have been born in the gym, not because she works out a lot but because she doesn't like to miss it. Closer ones end up calling her a psycho when it comes to gymming. She has got nothing to do with losing weight by working out but it's just to feel good about it. Weight loss or inch loss they just happen to her. That's awesome girl! You have a typical athlete's attitude!
Workout routine:
Training like a strong woman is something that I've always urged so many of my female clients to do in order to add more health to their bodies, Rakul has done it all while keeping her workouts 'fresh' and 'fun'... Fit, Fresh & Fun! Can't beat that! Rakul's body is a result of thousands of hours of hard work that she had put in all these years through her structured and sometimes unstructured workouts.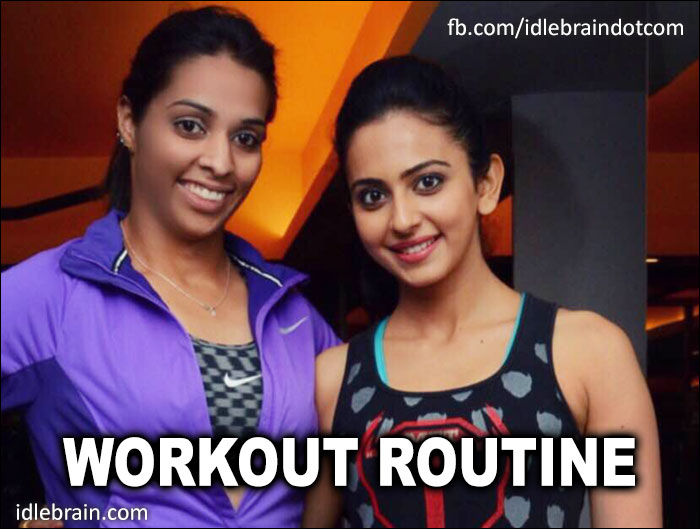 WORKOUT ROUTINE:
Workout days: Six days a week
Daily Routine: Warm up -> Cardio -> Strength Training -> Cool Down
Warm up: Stationary / Dynamic Stretches for 7-10minutes
High Intensity Cardio: Kick Boxing/ Cycling/ Treadmill/ Skipping for 25minutes
Strength training: Core & lower limb strengthening with Weights/ Sand bags/ Tyres/ Bodyweight
Cool down: Yoga/ Full body stretching
HOW IT WORKS ON HER?
This routine keeps her highly fit because
She starts slow with stretching each part of her body and the goes into her cardio routine which is just perfect
Since she does many different things for her cardio workout, this change is what helps her build more stamina
With her core strengthening exercises, Rakul is building a powerful core, dense upper and lower back
She is building a fat torching muscle that contributes to burning whole body fat by working on her legs
The cool down and relaxing of her muscles, with these two tasks together, Rakul puts her Resting Metabolic Rate into the right drive and burns more calories even while she rests
The one day's rest in the week that Rakul gives her body helps her for a good recovery and start afresh after that
Wow! You all, especially girls, must thank Rakul for building such a simply drawn up, yet effective
way for all of us to train. I particularly recommend the core and leg workouts which are the most powerful and valuable part of all my top clients's daily routines as well and I can guarantee you the first time you use it, you'll understand exactly why! Throw these exercises in and you're gonna see some good changes...REAL FAST!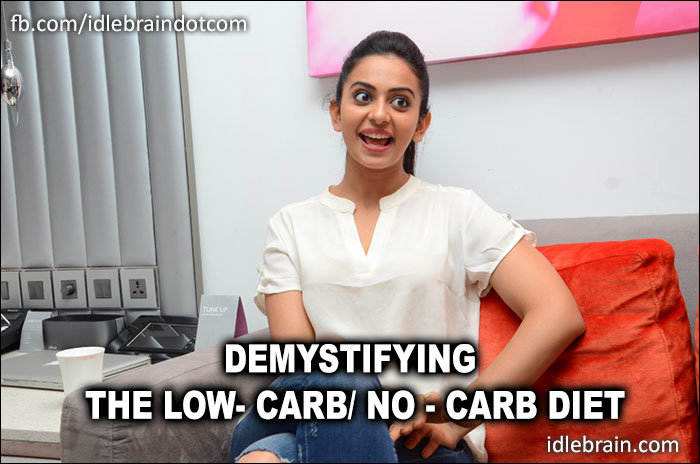 DEMYSTIFYING THE LOW- CARB/ NO - CARB DIET:
Rakul eats home cooked food. Back home, her workouts are followed by yummy Aloo Paranthas by her mommy! She has learnt and practiced the art of staying fit without starving herself. She avoids junk food, has a lot of fruits, veggies and carbs. Carbohydrates for dinner too! Yeah! Rakul loads herself with carbs for dinner as well. How does she still maintain her body without getting flabby?! Here is how, you will find carbs in fruits, grains and lentils. Rakul chooses her staple food-grain wheat for roti, coupled with dal and sabzi. All these when taken together have a calming effect on her and therefore, great for dinner option. An interesting technical note is that, these carbs are not just the energy givers but they come with essential fatty acids, amino acids, fibre, B vitamins, micro minerals like selenium, zinc, chromium and many other nutrients. Try this diet and include rice if it's your staple food and I am sure it would lead you to a slimmer waist line and a healthier heart. The carbs that should be avoided are the processed ones like biscuits, cakes, pizza, breads and ice-creams, as these futile stuff come with their share of preservatives, trans-fats, sodium, emulsifiers and added colors. These are the culprits for your bulging waistline and low metabolism. Thanks Rakul, for trashing the 'Avoid carbs at all costs' concept. Avoiding carbs drains you out of energy and reduces your body's ability to burn fat. Rakul Preet is a powerhouse of energy, she owes it to her food and fitness. She believes that you don't need to consume any kind of supplements and you can still get pretty jaw dropping results.
So people, try these simple yet very powerful metabolism spiking routines from the gorgeous Rakul Preet Singh and of course not to mention to the girls reading this, the side effect of this health giving routine would be a hot and sexy figure like hers!
by Purnima Mandava
Other celebrity fitness articles by Purnima:
• Lakshmi Manchu
• Harshvardhan Rane
• Rana Daggubati

About the author - Purnima Mandava:
The writer is a celebrity and corporate health & fitness coach by profession. She is a research scholar on nutrition from UCLA. Purnima is an International Athlete, a National level Basketball player and Volleyball player by passion, also a fitness writer by hobby.
Reach her at [email protected]
FB link: https://www.facebook.com/purnima.fitness