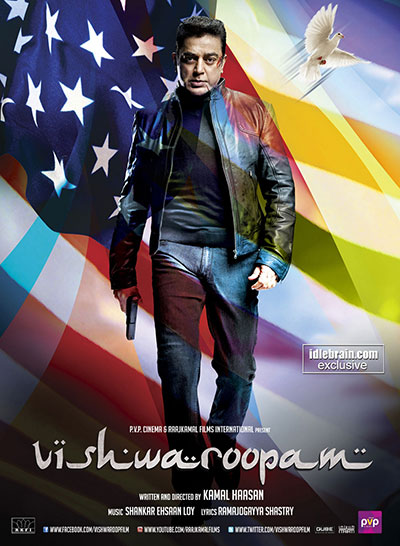 Viswaroopam – As lord Vishnu has many avatars so does our Legend Ulaganayagan (Universal Hero) Kamal Hassan (As south Indian crowd affectionately calls him KAMALA HASSAN).
The beauty of the art lies within a human heart because it takes a lot to view to recognize such magnificent movie. The feminine Kamal sir was just beautiful as I remembered AJIT movie VARALARU. Not ones did Kamal Hassan loose his act while he portrayed classical dancer as I watched the movements, his walk and the way he ran was with perfect femininity.
It's not a routine JIHADI or Militant movie because the research and analyzes done regarding location, planning, dressing, makeup authenticity was pure brilliance! Seeing Kamal sir carrying every character with such easy and high standards that it's rare to see in today's artists. While he acted as second fiddle in few scenes and didn't magnify his presence in those shots. That itself shows Kamal Sir's PURE ARTISTIC persona.
Starting with YESU DAS voice/song & Kamal Sir dancing skills/artistic presentation was a feast for the eyes. Any classical dancer would immensely enjoy seeing Kamal Sir's performance & young girl troop who danced with such grace and elegance. By the way, don't miss hearing Kamal sir's sing but I will not tell you in which scene – You need to go see it to release – He truly stands up to his name "Ulaganayagan"
Rahul Bose – I observed this gentleman up close since his modeling days. For some reason, his eyes always caught my attention. And his act was an ART in itself. Watching him act in a movie called Mr. & Mrs. Iyer itself made me so happy and seeing him as a main villain was perfect choice by the director (Kamal Hassan). Standing next to an actor whose career is as old as Rahul Bose age and making his presence felt is worth praise.
Andrea Jeremiah – What a lovely lady who dances so beautifully and looks really adorable. So, did Pooja Kumar, who acted perfectly as an Indian American Student/Kamal Hassan wife in the movie. Both ladies talent was extracted perfectly without overacting and portrayed very intrinsic to the characters they played.
Naseer Saab & Shekar Kapur always perform with great esteem. Such delight to see them support the movie in their own style. New kid on the block Jaideep Ahlawat – His character would have got lost or un-recognized if it wasn't for Kamal Hassan's direction. No matter, he is side kick in serious scenes who supports other characters in the movie but his acting skills are veritable and appreciable.
The man of the day – KAMAL HASSAN did justice to his vision and capabilities. Bringing new kids on the block with esteemed talent together and blending them perfectly well itself defines THE LEGEND capabilities.
Watch it with open mind, realize what you are seeing is actually surreal incidents which happen and happened in the past or present. Few glimpse show cases the facts – When a guy shaves himself clean before doing anything they believe is holy indicated the culture/tradition followed in the religion. And observe how Kamal Sir show cased the differentiation between a teen who is brain washed and child who is grown between family/love. These tiny little details tell us a lot about the kind of movie Kamal Hassan directed and researched.
By Vasudhara
bykerusso at gmail dot com
Other reviews by Vasudhara:
• Matru Ki Bijli Ka Mandola
• SVSC
• Naayak