Call him people star, red star and revolutionary star but he set a new trend with his 'red' brand films that expose the exploitation done to the lower strata of the society. He is R Narayana Murthy who is inclined to expose atrocities committed by governments against the helpless. Having donated crores of rupees for poor and needy when he made hit films, he never tells about it in media. Idlebrain.com met this unique people star with a mission for an exclusive interview. Here are the excerpts -
Filmography as hero
(own banner)
1. Ardharatri Swatantryam
2. Alochinchandi
3. Bhoo Poratam
4, Adavi Diviteelu
5. Swatantra Bharatam
6. Lal Salaam
7. Dandora
8. Erra Sainyam
9. Cheemala Dandu
10. Dalam
11. Cheekati Suryulu
12. Raithu Rajyam
13. Kolanna
14. Chalo Assembly
15. Ooru Manadira
16. Veguchukkalu
17. Gangamma Jatara
18. Amma Meda Ottu
19. Adavi Biddalu
Filmography as hero
(outside banner)
20. Errodu
21. Orey Riksha
22. Aranyam
23. Singanna
24. Telugodu
25. Bheemudu
26. Yeh Dharti Hamari
Childhood and studies:
I was born in Mallampet village (Routulupudi mandal), East Godavari district in a poor farmer's family. I studied in Routulupudi till 5th class. There used to be a touring talkies in that village where I used to listen to songs like 'Namo Venkatesa' playing outside the theater. I used to go to various films of top actors like NTR and ANR used to rehearsal what they had done in the films during the interval. That is where the foundation stone laid for my acting career.
I joined high school in Sankavaram. That is where I developed social awareness. I used to observe the atrocities done to public. I got attracted towards revolutionary movements during that time.
I joined college in Peddapuram to study BA degree. I got influenced by politics and developed three main interests - movies, politics and social commitment. I was the president of students union in that college as well as the secretary to Fine Arts department. I also served as the secretary to Poor Boys Fund Committee besides being the president of students for my government hostel. The rickshawalas used to approach me for support and asked me to stand as their president. I was president of Town Riksha Union too. I also vigorously participated in emergency period in Indira Gandhi days. I was taken by police for interrogation. I also initiated funds collection for a new college construction by arranging a program with film heroine Manjula. I contributed my bit towards Bihar floods during that time. My college mates used to call me as 'Brother of College'.
Film career:
It was my lifetime ambition to become a hero. After completing my intermediate I went to Chennai and met Dasari Narayana Rao. I got a role in superstar Krishna's film Neramu-Siksha. I was one among the 170 junior artists who stood in a scene for a song. I got frustrated after doing small role. At the same time, I came to know that I passed my intermediate. Dasari suggested me that I should complete my graduation before acting in films. I also had a thing for BA degree as NT Rama Rao's title card used to have 'NT Rama Rao BA'. I returned to complete my graduation. During that time, Neramu Siksha got released. Though I was one among 100 people, my villagers recognized me and started clapping and whistling for all my scenes. They used to say 'mana reddy babulu (my nick name) cinemalo vunnadu'. That response made me realize the power of mass media like movie. I decided that I should complete my degree and join films again.
After completing my degree I met Dasari again. He was making a film titled Needa with Ramesh Babu as hero on Telugu Chitra banner. Ramineni Sambasiva Rao and Dr. Rama Koteswara Rao produced that film. I got a meaty role in that film. It was a hit. I received 100 days shield from Karunanidhi in Hotel Chola, Madras.
After that Dasari (Seetaramulu, Korikale Gurralaitha, Viswaroopam), D Rama Naidu (Agni Poolu), Jyothy Sekhara Babu (Sardar) encouraged me.
Dasari made me full-fledged hero with a film titled 'Sangeeta'. It was produced by Hara Gopal on Purna pictures banner. I had two songs and SP Bala Subramanyam composed music. It was a decent hit and it ran for 50 days.
Ardharatri Swatantryam (Turning point):
My struggle started after release of this film Sangeeta. I have become too big for small roles and nobody was offering hero roles. I had no money and no food. I struggled a lot during that time. But it was Sri Sri's song that inspired me.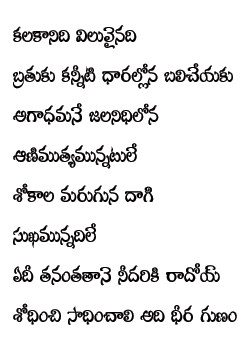 I then realized that I should become a director in order to be a hero. And nobody would give be direction chance as I had no prior experience. I used to observe Dasari's work when I was on location. Then I realized that I had to become a producer in order to give myself a chance as director. I told my friends about my ambition. They are great people and they helped me. That is the reason why named my banner as 'Sneha Chitra'. I used the Indo-Russian friendship's shake hand logo for banner.
I started 'Ardharathri Swatanthram' as my first venture in Rampachodavaram on June 10, 1984. I completed it with a budget of 16 and half lakhs. I had censor problems and overcame them with help of people. It got released on 6 November 1986 on the eve of T Krishna's death anniversary. T Krishna did the role of a naxalite in that film. It created history after the release. The songs by Vangapandu, dialogues by PL Narayana, loations and story-screenplay-direction by me helped the film to become a big hit. All my films had contemporary social problems like unemployment, world bank policies, WTO agreement, third world country problems, environmental issues, dams and rehabilitation problems, land issues, political turmoil etc. Hence the exploited people used to identify themselves in the characters of my films.
ABK Prasad wrote an editorial about my film Vegu Chukkalu in Andhra Prabha newspaper. Vartha wrote a frontpage news about that film. Udayam paper also wrote front page article about Ardharatri Swatantham.
Dandora film inspired women to attack on sara (arrack) shops. Erra Sainyam aggravated the land fight movement. Lal Salam created commotion because it dealt with Chundoor issue. Police interrogated me for that film and it was also banned for a while.
My films never had sexual exploitation, double meaning dialogues, lavish settings, huge star cast, separate comedy tracks and duets. I always depended on the real issue to strike the chords of common man.
Why did you not marry?
It is not an international issue. Let's not discuss about it.
Why do you lead a simple lifestyle?
I don't own a house. I don't have a car though I produced over 19 films. I like it this way. I don't have to travel in car or own a house to prove something. I prefer simple life.
Do you nurture any political ambitions?
TDP offered me MP seat for Kakinada twice. Congress offered me MLA seat for Tuni. But movies are my first priority. Hence I said no to them. I would like to thank people for making me such popular and leaders for offering me such positions.
Which one is the trend setting film among yours?
Erra Sainyam was the trendsetting film. Lots of filmmaker started making such films and made that genre monotonous. Hence my later films flopped because people felt that I have become monotonous. I made good films for 10 years and had a winning way. After that for seven years I had a flop streak. I started my second innings with Ooru Manadira film.
How many hits are there in your career?
Out of 25 films in which i acted as hero, 10 films were hits. These are Ardharatri Swatantryam, Adavi Diviteelu, Lal Salam, Dandora, Erra Sainyam, Cheemala Dandu, Dalam, Cheekati Suryulu, Ooru Manadira and Vegu Chukkalu.
Who do you thank for your position today?
I would like to thank Dasari Narayana Rao for all the help. I would also like to thank Ramesh Prasad (prasad Labs) for helping me out. I want to thank people's poets (praja kavulu) and all those people who are fighting for the people, social causes and equality in society.
What are your future projects?
I remade Telugu blockbuster Erra Sainyam in Hindi as 'Yeh Dharti Hamari'. This film will be released allover India on 7 September. If I find the box office response encouraging, I might remake all my Telugu hits in Hindi in future.
Other Interviews
• Cherry (Producer)
• Baba Sehgal (Singer)
• Buddhadev Dasgupta (Director)
• Tom Alter (Actor)
• Kundan Shah (Director)
• Priyadarshini Ram (Director)
• Selva Raghavan (Director)
• Vijaya Bhaskar (Director)
• Vishnu (Hero)
• R Ravinder (Art director)
• Venkatesh (Hero)
• Ratnavelu (Cinematographer)
• Chandra Sekhar Yeleti (Director)
• Madan (Director)
• Mohana Krishna Indraganti (Director)
• Raja (Actor)
• Dega Deva Kumar Reddy (Producer)
• Nidhi Prasad (Director)
• Hema Chandra (Singer)
• Vijay C Chakravarthy (Cinematographer)
• VN Aditya (Director)
• Nagarjuna (Actor)
• Sunil (Actor)
• Sharrath Marar (Producer)
• Ram Gopal Varma (Director) •
• K Satish (Director)
• Siva Nageswara Rao (Director)
• Ajay Varma (Hero)
• Kamalinee Kukherjee (Heroine)
• Neelakanta (Director)
• Sandhya (Heroine)
• Sriya Reddy (Heroine)
• Muruga Doss (Director)
• Uday Kiran (Hero)
• T Gopichand (Hero)
• Kalyan Ram Nandamuri (Hero)
• Lawrence (Director)
• Siva Kumar (Director)
• Venkat Kuchipudi (Director)
• Rasool Ellore (Cinematographer & Director)
• Raju Sundaram (Choreographer)