Story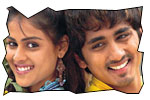 Siddu (Siddardha) has everything in life, but in excess amounts. His father (Prakash Raj) decides on what is good for Siddu. He selects the girl of his choice to Siddardha. That is when Siddu meet the girl Hasini (Genelia) he has waited all his life for. Now he has a complex situation. First he need to propose to Hasini and win her over. Then convince his over-obsessive father. Then make Hasini's father accept him. Then break the engagement. And so on!
Artists Performance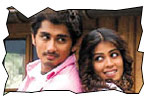 Bommarillu is the best example of perfect casting. Here is another tailor-made role for Siddardha. He is very natural, charming and elegant. The most crucial part of his performance comes in the confrontation scene with Prakash Raj. Genelia steals the show with her mind-blowing performance as a happy-go-lucky and innocent girl. She is like an angel with lot of purity. Savitha Reddy (dubbing artist) has given her best output for the Hasini character in this film. Prakash Raj is at his best in this role that demands extraordinary performance. One wonders why Jayasudha is taken for such a role which has got very few dialogues, but her performance in confrontation scene with Prakash Raj in climax is enough to justify why it takes a natural actress like Jayasudha to do that role. After many years Sunil has done a superb comedy role. His expressions as servant in Prakash Raj's house remind us of comedians of golden era. Kota is very good in the role of Genelia's father. Sudeepa is terrific as aspiring beautician. Satya Krishnan is cute. Bill Bitra is very smart as kid in Prakash Raj house. Dharmavarapu Subramanyam is neat. Chitram Seenu, Vijay and Ravi Varma are adequate as friends of hero.
Technical Departments: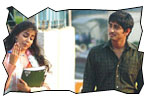 Story - screenplay - Direction: Bhaskar arrives with this film as a terrific talent that makes Telugu film industry proud. There is lot of freshness in the film. Director understands the nuances of filmmaking extremely well and applies them all with perfection for his debut film. Story of the film deals with the relationship that sours between a good father and a good son. Screenplay of the film is tight. Direction is exceptionally good. He dealt both fun scenes and emotional scenes with same degree of dexterity. At one point of time, Bollywood produced great flicks like DDLJ and KKHH. I always wondered why can't we have such films in Telugu. Telugu film industry too produced such films, but most of them are inspired ones. Bommarillu is one film that matches the brilliance of above mentioned films.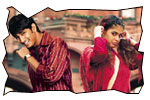 Music: Music of the film is very good and background music is excellent. The scenes in the first half are so good that songs come as speed breakers to the narration. The songs in second half are excellently blended into the narration with good emotional quotient. The choreography for 'Bommani Geeste' song (4th in the film) is exemplary. The pathos song that comes in parts in second half is brilliant.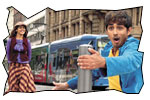 Other departments: Cinematography by Vijay K Chakravarthy is priceless. He makes this film a visual treat with rich and vibrant colors. Dialogues by Abburi Ravi are excellent. Editing by Marthand K Venkatesh is crisp. Artwork is fabulous. Dil Raju produced this film with high standards of filmmaking. Dil Raju knows the recipe for success and this time the recipe is more yummy than his earlier films.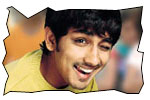 Analysis: First half of the film is excellent. Second half is even better. The last 20 minutes of the film is extraordinary with perfect emotions. This film is so good that I don't find any negative points. The huge plusses of this film are director Bhaskar, perfect cast (Genelia's exceptional performance), priceless piece of work by Vijay K Chakravarthy, appropriate music by Devi Sri Prasad and good judgment and involvement by Dil Raju. If director Bhaskar can make films of other genres the way he made Bommarillu, he is the one who can take the Telugu cinema to the next level. After a gap of 44 months, it gives me a great pleasure to give a 'Jeevi Rating' of 4.5 for a Telugu cinema in the form of Bommarillu.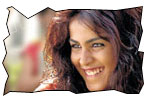 Tail piece: Watching Bommarillu in today's morning show at Prasadz is like sitting in a ladies special show (as 75% of the patrons were good looking women). The film is so good that people are refusing to leave the auditorium as the titles are scrolling.
Bommarillu links
• Dil Raju chitchat
• Photo Gallery
• On the sets
• Audio launch
• Audio CD launch
• Wallpapers
• Trailers
• US Schedules
Jeevi reviews of previous 5 films
• Amma Cheppindi
• Ashok
• Vikramarkudu
• Godavari
• Pokiri
• Veerabhadra
More Reviews