Story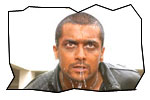 Sanjay Ramaswamy (Surya) suffers from short-term-memory-loss (STML). His memory gets refreshes every 15 minutes. He has very few clues about his past. He uses the aid of Polaroid photographs and tattoos to identity people around him and to perform the tasks. He looks out for Lakshman (Predeep Rawat) who killed his lover Kalpana (Asin). The remaining story of the film is about the love track between lead pair and how Sanjay takes his revenge.
Artists Performance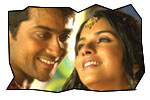 Surya is great in this film. He is pretty romantic in the flashback episode. His histrionics as victim of short-term memory loss are of high standard. His body language is terrific. Asin is excellent as naughty girl with a heart for suffering people. She is so hilarious in the scenes involving with Surya to the extent that she overshadowed him. Nayana Tara looks completely different in this film compared to Chandramukhi. She had a nose ring and wore modern dresses. Pradeep Rawat is adequate as villain. Riaz Khan is competent as the cop.

Technical Departments: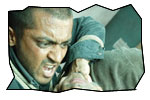 Story - screenplay - direction: The concept of memory loss, aid of Polaroid photographs and tattoos is inspired by Hollywood flick 'Memento'. But the director has nicely interwoven the flashbacks in interesting style. The screenplay of the film is good. There is stylishness in the taking by Murugadoss. He maintained an element of suspense about the flashback of hero and he nicely broke it up into three pieces and made them get revealed through three people. However, he could have taken care of second half as it turned out to be too serious sans entertainment.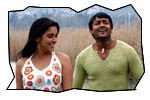 Other departments: Songs by Harris Jayaraj is good, though the songs come like speed breakers to the narration of the story. Background music is very effective. Cinematography by RD Raja Sekhar is excellent with pleasing colors. Dialogues by Shashank are good. Editing by Anthony is slick. Fights by Kanal Kannan are good. There are few scenes in the film that were reshot in order to get some Telugu nativity. The dubbing of the film is done well.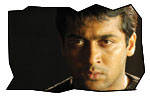 Analysis: First half of the film is very good with good establishment of hero's character suffering from STML (Short Term Memory Loss) and hilariously romantic sequences between the lead pair. The second half of the film is serious sans entertainment. There are certain lags towards the climax of the film. The plus points of Ghazani are Murugadoss's taking (direction & screenplay), Surya, Asin, cinematography and music. The negative point is the lack of entertainment in second half. This film would find a liking by the urbane crowds. You may watch it.
Ghazani Links
Photo Gallery
Jeevi reviews of previous 5 films
Mazaa
Moguds Pellams
Danger
Bhama Kalapam
Vamsam
More Reviews