Story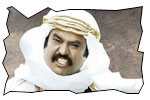 Balu (Jagapati Babu) is a barber in a remote village. He is a straight-forth man with honesty. He has an understanding wife (Meena) and three kids. Ashok Kumar (Rajnikanth) – the superstar of film industry – is his childhood friend. But Balu loses touch with Ashok after he becomes an actor. The unit of Ashok's latest film comes to the village of Balu for a cinema shoot. Balu's family members and village men ask Balu to take them to Ashok. But Balu is such a kind of guy who does not want to ask favors. The rest of the story is all about how the honest Balu and raging superstar meet.
Artists Performance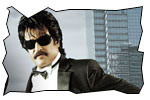 Rajnikant: Rajnikant mesmerizes you again with his 60-minute screen presence in this film. He is super stylish in the various costumes (Mask of the Zorro, Lawrence of Arabia etc) donned in two songs of the film. He also has a very sensible part in the film where he tries to explain the mindset of an actor and superstar. SP Balu who usually dubs for Kamal Hassan dubbed for Rajnikant in this film.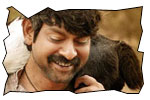 Jagapati Babu: Jagapati Babu came up with one of the finest performances of his career. This role demands a tremendous histrionics from the actor in Jagapati Babu and he does a wonderful job. His get-up is also good. But one wonders why he has light beard though he is doing the role of barber.
Others: Meena is apt as the wife of Jagapati Babu. Nayana Tara sizzles as film heroine paired with Rajnikant. Dharmavarapu entertains. Sunil's escapades in second half are good, especially his expressions while ogling at Nayana Tara. Ali is alright. Brahmanandam is wasted. The comedy of MS Narayana and Kondavalasa does not appeal.
Technical Departments: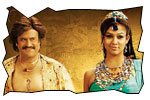 Story - screenplay - direction: This film is a remake of a Malayalam blockbuster - Katha Parayumbol. The story of the film is old-fashioned and simple. The director tried to stick to the story than going for commercial gimmicks with Rajnikant for the sake of commerciality. The screenplay should have been better. Narration is a bit slower. The director handled the climax well by making it a heart-touching one.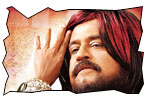 Other departments: Music by GV Prakash Kumar is good. Cinematography by Aravind Krishna stands out. His work for 'chele chele' is very good. Dialogues written for Rajnikant deserve claps. Dialogues like 'tinna tindi vantlone vunte, vantiki manchidi kaadu. Sampadinchina dabbu intlone vunte intiki manchidi kaadu' and 'talli, tandri, guruvu, daivam antaru. Kaani talli, tandri, guruvu, snehitudu, daivam anaali'. The dialogues written for Rajnikant in a conversation with educationalist are very true and entertaining. Art work is also good. The special effects work done to this film is neat. Production values are nice.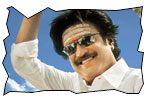 Analysis: With the kind of publicity given to this film, people might think that Kathanayakudu film is a completely Rajnikant's film. But Kathanayakudu film belongs to a barber character played by Jagapati Babu. All the scenes involving Rajnikant have nice dialogues and good style. The scenes featuring Jagapati Babu are little arty. The comedy in first half does not gel well. The plus points of the film are Rajnikant, Jagapati Babu and a heart touching climax. On a flip side, a better screenplay and a faster narration would have helped the film tremendously. The success of the film depends on how the family crowds receive it.
Kathanayakudu links
• Premiere
• Preview
• Music launch
• Muhurat
• Photo gallery
• Wallpapers
• Trailers
Abroad schedules
US | Aus | Singapore
Jeevi reviews of previous 5 films
• Ullasangaa...
• Ready
• Dasavatharam
• Pandurangadu
• Kantri
• Parugu
• Bhale Dongalu
• Jalsa
More Reviews