Story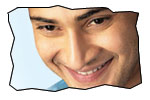 Nani (Mahesh Babu) is an 8-year-old kid. He is fed up with the bad treatment meted to him by his mother. When he attempts suicide, he is rescued by a weird scientist 'Science' (Raghuvaran). Nani tells him that he is fed up with everybody harassing him in his house. Science offers him a service that would make 8-year old Nani into a 28 year old grown-up. Nani accepts the proposal. Nani becomes big and starts living outside. His mother lodges a complaint in police station that her son is missing.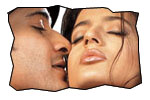 Nani grabs a job in a Toy manufacturing company as a product manager. The nature of his job is to play with all the toys and suggest improvements. He earns quite a handsome amount. In the process, he interacts with Priya (Amisha Patel), the daughter of TOY company's chief (Nazar). Priya is madly in love with Nani. Later on Nani realizes that his mother loves him and she is missing him a lot. By looking at the sorry plight of his mother after he became big, Nani asks Science to revert him back as kid. When he makes Nani back to 8-year-old kid, there is a complication. Nani is an 8-year old kid in the day time and a 28-year old grownup during the night time. The rest of the film is all about how Nani manages it.
Artists Performance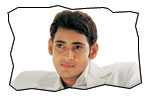 Mahesh Babu: There is an amazing tenderness in the looks of Mahesh Babu. That same quality shows up as an effective tool for the portrayal of Nani character (8 going on 28). Mahesh Babu came up with an authentic performance. He looked stylish and charming in suits. His histrionics in pathos scenes are genuine.
Amisha Patel : Amisha Patel is great in the film. She exposed quite a bit of cleavage and has got tremendous footage in this film.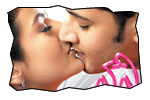 Others: Devyani is OK as mother of Nani. However, the voice of Savitha Reddy is not apt for the role of mother. She also overdid (like in Tamil movies) in few of the scenes. The kids (Ashok Galla) who played Nani and his buddy did well. Aiswarya is irritating as the cigarette-smoking buddy of heroine, who always speaks in Raghuvaran's accent. Ali, Brahmanandam and Ravi Babu did the roles of comedy villains. Sanjay - husband of producer Manjula - played the role of Devyani's husband in this film. Sunil provided some unusual comedy with his farts in climax fight. Nazar and Raguvaran are adequate. Kiran Rathod, Anjala Zhaveri and Mehak made guest appearances in the title song of the film. They look very insignificant in that song.
Technical Departments: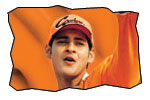 Story: Story of the film is inspired by Tom Hanks Hollywood blockbuster 'Big'. Quite a few scenes from that film are reused as per the convenience. However, story writer SJ Suryah failed in altering the story as per the nativity. If Big film has 70% importance to mother-son bonding, Nani film has 70% importance to romance between the lead pair.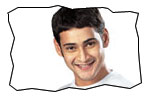 Screenplay - direction: Screenplay by SJ Suryah is insipid. Direction is not up to the mark. Narration is very slow and boring at times. He tried to depend more on creating situations that explore conflict between the sexual desire of Amisha character and the innocence of Nani than trying to exploit the tender relationship between son and mother. The Telugu movie lovers who have seen SJ Suryah in a full form in films like Vaali and Kushi end up being taken for a ride for 'Nani'. SJ Suryah said in an interview given to idlebrain.com that "A music director can bear 10 flops. A hero or heroine can bear six flops each. If a director delivers one flop, the industry will throw him away." SJ Suryah should have kept that point in his mind while making this film.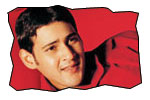 Music: The songs of the film fall short of what we expect from a music director of AR Rehman caliber. AR Rehman disappoints with his background score. It does not sound like AR Rehman's at all. Among the songs, Vasta Nee Venuka stands out followed by Amma song. They have used filters for 'Chakkera Ekkada Nakkina'.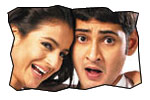 Photography: Photography by Guhan is different. But what made the whole film looked unusual are the weird camera angles and contorted lens adjustments. These kind of photographic techniques are good if they were used for 5% of the scenes in the film. But it definitely irritates you if they were used for major part of the film. Another artificial factor about the photography is the lighting scheme used. Blue color dominates the film.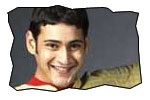 Dialogues: Dialogues by Sobhan are OK. He made good use of words while writing dialogues that appear to have 'double meaning' for the situations involving Amisha Patel and Mahesh Babu. The dialogue 'Eee lokamlo chedipoyina aadavallu vundochu kaani chedda amma vundadu' is heartening. He also used the code word of 'Gurram Ekkadam' referring sexual intercourse.
Other departments: Art work is trendy. Editing is OK. Choreography for 'Vasta Nee Venuka' is enticing. Other songs (except for Amma song) have fast/rap steps. Production values of the film are extravagant.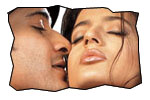 Analysis: First half of the film is boring. Second half is slightly better. The movie suffers from artificialness and bad script. Nani stands as perfect example of how sound and camera is being misused (they used weird camera angles and stunts-related sounds even for the scenes involving son-mother). All the scenes and song (Markandeya) involving Ramya Krishna were deleted. However, there are a couple of good scenes (pathos scene involving Devyani and Mahesh - Comedy scene of first night for Mahesh Babu and Amisha Patel). 'Nani' is a bad film. Mahesh should not have accepted this film. We have to wait and see if Mahesh's image comes to rescue of 'Nani'.
Nani links:
Sreya audio review
Photo Gallery
Audio Function
Wall Papers
Release centers
Trailer