Story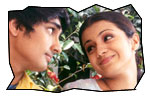 Siri (Trisha) and Sivarama Krishna (Srihari) are orphans. Their rich father leaves their mother for another woman. And so their mother dies in distress. With this kind of troubled childhood, Sivarama Krishna (Srihari) takes care of his little sister Siri and makes sure that she gets all the brotherly love she needs. Sivarama Krishna also starts to hate rich people and he wants to make sure that Siri is wed to a poor and hardworking man.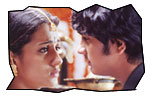 Santosh (Siddardh) is London-settled NRI who lives with his elite parents. He along with his mother visits India to attend a relative's wedding. There he meets Siri, who is a pole apart when it comes to upbringing and family background. The inevitable happens and they fall in love. Santosh's mother who does not approve of this, tries to separate Siddardh from Siri.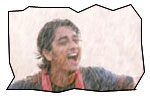 Santosh visits Siri's place and asks the permission of Sivarama Krishna for her hand in marriage. Sivarama Krishna refuses his proposal because he does not want his sister to suffer in the environment of money-minded people. Santosh asks Sivarama Krishna to give a chance to prove himself. Sivarama Krishna asks Santosh to work as a labor in his farm. He also gives 1 acre of land and asks him to harvest more produce than him. The rest of the story is all about how Santosh wins the bet as well as the heart of Sivarama Krishna.
Artists Performance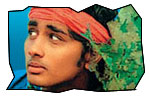 Siddardh: Siddardh is the surprise pack of the film. He is too good. After watching the film, one would realize how appropriate his casting is. He epitomized the essence of his character and won the hearts of audiences with his zest portrayal of mischievous yet lovable guy with heart of goldmine and the will to go for the girl he loves against all odds. Probably his experience as subordinate to Mani Ratnam in direction department did a world of good in understanding and emoting the histrionics the way they were supposed to be done.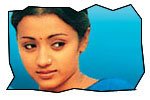 Trisha: Trisha's character in this film is an extension of her sensible character in Varsham film. She is just great. Her tender looks, innocent face and Telugu traditional costumes make her a treat to watch. Her expressions and naughty antics while performing situational songs in this film are excellent.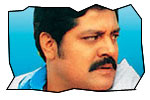 Srihari: The character of Sivarama Krishna needs an actor of good stature. It is a nice idea to cast Srihari. Srihari is one of the best actors in film industry whose wide range of acting capabilities were restricted due to lead roles. He gives a measured yet powerful performance as a doting brother.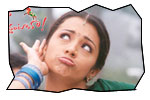 Others: Sunil is terrific with his under-played comedy as Banda. The one-liners cracked by him has the crowds in splits. Dharmavarapu's cell phone comedy is another highlight. Santoshini - heroine of Jai film - does a deglamorised character role in this film and she is excellent. The 'Jagratha' episode by Santoshini is also good. Veda's role as heroine friend is a vital one and she does well. Prakash Raj gives yet another controlled performance as the supporting father of the hero. Geeta is adequate as the prejudiced mother. Nandita is attractive in the character who falls for the hero. Jaya Prakash Reddy entertains once again with his laughing outburst. Narsing Yadav and Raghu Babu are apt for their roles. Paruchuri Venkateswara Rao gets another vital character. Abhishek (of Aithe fame) is appropriate. Producer MS Raju and director Prabhu Deva give special appearances.
Technical Departments: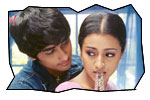 Story: Story of the film is simple. It reminds us of films like Pyar Kiyatho Darna Kya and Ramudocchadu. But the comparison ends there. The angle of an unimaginable commitment of a brother and an unflinching thirst for love from the lover makes this storyline possess a very good box-office potential. Veeru Potla (Varsham fame) gave the story.
Apart from the storyline there are few scenes that are inspired by other films. One among them is the hilarious scene of lead of couple rescuing themselves against dog by slipping into the bathroom with sliding door. This scene is inspired by a scene from 'A Guy Thing'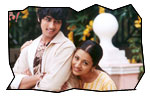 Characterization: Two thumbs up to the characterization. Each and every character - however small it may be - has some significance in the film. Even oft ignored actress like Pavala Shayama had her moments in the film, which were noticed very well. Each and every character leaves an impression.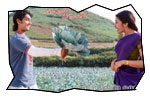 Screenplay - direction: Screenplay provided by MS Raju is gripping. He made sure that there is no dull moment through out the film. Direction by Prabhudeva is really good. He used his entire aesthetic skills to make this film a musical with beautiful expressions. He exploited simple things, warm feelings and tender emotions and transferred those things efficiently to the hearts of audiences. It is very important to retain feel of the film when one is making a soft film with such simple storyline. Prabhu Deva should be commended for bringing the soul in to this film.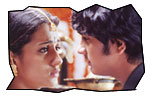 Music: This is the best work of Devi Sri Prasad after Varsham and Arya. The songs might not sound great when you listen on stereo. But they are entirely different when captured on the screen amid situations. Songs do stand out in the film as the best. The re-recording and background score are terrific.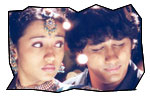 Songs: Prabhu Deva and Vishnu Deva gave 100% output in choreography. There are seven songs in this film. All songs are situational except for the last song. There is rhythm, merriment, emotions upsurge and passion that flows throughout these songs. Songs in this film are a part of story narration. Each and every song is good in its own way. Excellent lyrics by Sirivennela helps in infusing more feel into the songs.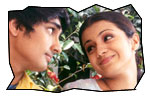 Dialogues: Dialogues by Paruchuri brothers are just perfect. The dialogues in this film are integral part of the script. One-liners for Sunil are entertaining. Meaningful dialogues describing the commitment of Srihari are excellent. The words 'Something something' might become a rage among young college-goers. It is nice to see Paruchuri brothers calling the young people as 'youngsters' instead of using generalized term 'youth'.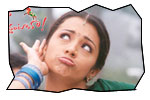 Cinematography: Another big asset of the film is photography by National Award winner from Kerala, Venu Gopal. He captured the lush greenery of paddy fields and natural beauty. Each and every frame of the film is rich with vibrant colors. Camerawork is smooth and extremely professional and helped the film a lot.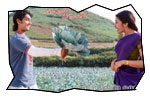 Threads: Film enthusiastics who would like to view a film beyond the visuals, sound and the feel should observe the most interesting aspect narrating a film - Threads. The several threads of this film interweaved by bringing the right thread in front, on the narration at the right time. Here are the following threads
1. Bother - Sister thread: The beginning of the film itself establishes the strong bond between these siblings and how Sivarama Krishna arrives at conclusion that his sister should not wed into wealthy families. At the same time it is also shown how the sister trusts her brother and honors his decisions as well.

2. Love thread: They like each other at the first moment. Santosh is forthcoming in expressing himself whereas Siri restrains herself from doing so. Even as she falls in love with him, she makes it clear that she can't disrespect his brother's decision about her marriage. Santosh leaves all his comforts, relationships and belongings to prove how much he is devoted for Siri.

3. Thread of Souvenir: Sivarama Krishna presents a toy horse to Siri when she is a kid. When a jealous friend breaks this toy, Santosh rejoins it again and gives it back to Siri, as he understands the sentimental value it carries. The same toy again is nurtured by Santosh as a memory of Siri. And in one occasion he does not even mind his life to save the toy.

4. Shadow thread: There is a quiet boy (Abhi) eyeing Siri since his childhood. He appears throughout the film at regular intervals. He comes forward and jumps into action only during the climax (at the right time).

5. Parents thread: One of the parents tries to protect the kid while the other tries to admonish. Santosh's father (Prakash Raj) is supportive of his son whereas the mother tries to influence her son to win over her personal prejudices. Father appears at the right times to give moral support to the kid.

6. Station Master thread: The most powerful character in the entire story is Sivarama Krishna. It is only a stationmaster who can influence Sivarama Krishna. The Station Master character thread is deftly brought forward at vital situations to guide Sivarama Krishna in order to make the story progress smoothly.
There are many more threads in the film. The dexterity of MS Raju can be seen in preparing screenplay by giving balance to these threads.
Most touching moments:
1. Santosh showing his disappointment when Siri slaps him on his cheek.
2. The scene in which Santosh protects the toy horse from fire by risking his life.
3. The ultimate sacrifice by Srihari in the climax.
Other departments: The sets and locations chosen are excellent. Editing work by KV Krishna Reddy is crisp. Fights by Vijayan are good. Producer MS Raju should be commended for making yet another good film with right production values and for depending more on script that is well supported by good technical team.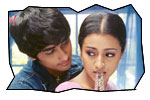 Analysis: First half of the film is excellent with great entertainment and emotions. The second half is set more on emotions and less on entertainment. Second half is good. Plus points of the film are great characterizations, neat screenplay, good direction, excellent music, extraordinary photography, superb comedy (Sunil, Dharmavarapu, JP etc) and perfect casting. There are no negative points in the film except that the second half has gone a bit slow. Whenever I watch a film, I look out for the feel and emotions and this film has got plenty of it. I recommend this film to all Telugu film lovers. On the box office front, this film should have excellent run in urban areas and decent run in rural areas.
NVNV links
Audio Function
Muhurat
Press meet
Photo Gallery
Wallpapers
Chitchat with MS Raju
Jeevi reviews of previous 5 films
Naa Alludu
Balu
Mass
Vijayendra Varma
Vidyardhi
More Reviews