Story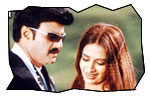 A handsome man (Bala Krishna) lives in agency area with his wife (Laya), daughter and in-laws. He does not have a name nor does he know who he is. He cannot remember anything that has happened in his life 7 years before. However, he realizes that he possess special combat skills whenever he comes across evil elements. When he forces his wife to tell the truth, she reveals that he was found in river with a mutilated body and he was taken care of by her. As the man goes to Hyderabad searching for his identity, a few incidents lead to the answer. He is none but the most respected and committed Indian Army Officer Vijayendra Varma. The rest of the story is all about how he retraces his past and saves the nation from Pakistani Jihadis.
Artists Performance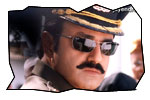 Bala Krishna: Bala Krishna is simply terrific as Vijayendra Varma. He once again has shown his dialogue power and supreme histrionics with power-packed performance in this film. His comedy timing is pretty good in 'dozen' episode of flashback. He dances with gay abandon in all 3 mass songs. Bala Krishna looks majestic in the getup of a RAW officer. He also dons the get-ups of Bhagat Singh, Alluri Seetarama Raju, Subhash Chandra Bose and Sardar Paparayudu for the patriotic song. His getup as Alluri Seetarama Raju is the best.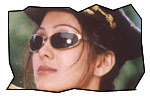 Heroines: When it comes to entertainment, Ankita walks away with complete honors. Contrary to her roles as city-bred girl in her past films, the role of 'Venkata Lakshmi' (a naughty village belle with pure Godari dialect) is brilliant. There is lot of freshness and entertainment. She dances with full josh for a couple of mass songs. The girl who dubbed Ankita's voice is apt. Laya does the role of a responsible wife. The role offers less of glamour and more of performance. Sangeeta does a special appearance that lasts for a comedy episode followed by 'Maisamma' song. Sangeeta's dances matched the pace and fluidity of Bala Krishna and together they made a great on-screen pair for that song.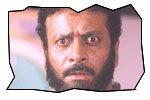 Others: Mukesh Rushi's performance as villain is routine. Since his role is of a Pakistani Jihad leader, he appeared suitable for the role. Asish Vidyardhi is redundant. Manorama is adequate. But it is the role of 'Surya' that steals show among the character artists of the film. Satya Prakash, who did the role of baddie in the earlier blockbusters of Bala Krishna, has done a positive role in this film. Brahmanandam and Venu Madhav succeeded in their small comedy roles.
Technical Departments: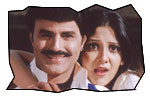 Story: The basic storyline of losing memory in an event and retracing it back through certain incidents reminds us of Hollywood flick 'Bourne Identity'. The story angle of a Hindu growing up in a Muslim family shows the religious tolerance in good light. But towards climax of the film, it had to be compromised upon due to certain factors beyond the reach of the filmmaker, which took the wind out of otherwise a powerful story.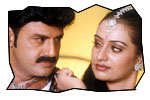 Screenplay - direction: We cannot gauge the caliber of the director to full extent because of the undue delays in production of this film and other compromises done. He is good in parts. He definitely knows the mass pulse. He could get right scenes for to project the strengths of Bala Krishna (dialogues and powerful histrionics) in the flashback episode. But there are innumerable illogical sequences that hamper the narration of film.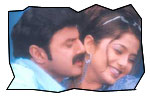 Music: Music scored by Koti is a definite plus to the film. The background score that comes for Bala Krishna is good. Thanks to the equally good picturization of songs. Here is the order of songs
1. Oh Manmadha: It is a melody song that is picturized on Bala Krishna and Laya in outdoors. This song involves slow steps.

2. Mandapetalo: This is a beautiful folk song on Bala Krishna and Laya. Bala Krishna looks pretty glamorous in folk attire as he rendered the prologue to the song. The second set colored with red is great.

3. Maisamma: This mass song is the highlight of the film. Sangeeta sizzles with Bala Krishna. There is very good rhythm and harmony in the superb steps done by Bala Krishna and Sangeeta. The foreign backdrop also helpsthe song to get the right mood.

4. Guntadu Guntadu: This is the song on Bala Krishna and Ankita. A fast paced one with peppy music and energetic dances. What makes this song a special one, is the atmosphere, it creates both on the screen and in the auditorium.

5. Siggu Paparo: This song shot on Bala Krishna and Ankita is equally good as the previous song, but has the added advantage of situational strength. This is the song which made fans throng to the dais and dance. Bala Krishna is really charming in military attire he wore in foreign backdrop.

6. Patriotic song: This patriotic song comes as a part of climax. Bala Krishna had 4 get-ups in this song - Bhagat Singh, Alluri Seetarama Raju, Subhash Chandra Bose and Tandra Paparayudu. Alluri Seetaramaraju's get-up is great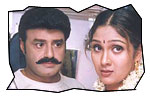 Dialogues: Writer Ratnam blended sentiment dialogues and action dialogues well. There are few dialogues that were appreciated like
1. Potiki vachinavallani postal address lekunda chesta.
2. Nenu verevalla joliki vellanu. Evaranna naa joliki vaste vadalanu
3. Nuvvu Votebank nundi puttinavaadivi. Nenu ammanundi puttina vaadini. (addressing to villain)
4. Fullgaa kottinchukunnavaadiki noppenti (Brahmanandam's parody to Ninda munigina vadiki chali emiti).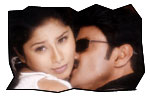 Camerawork: There is inconsistency in the camerawork as two cinematographers worked for this film. However the camera angles appear interesting, as most of the scenes in the 1st half, were canned by placing camera either at ground level or at a high elevation. Another reason for inconsistency is the use of graphics.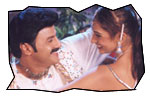 Other departments: There is too much of threadwork for fights. Wires were used for dance movements in a couple of songs too. There is heavy usage of graphics. The graphics done for this film appear pretty artificial (probably due to lack of resources).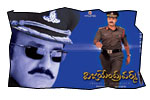 Analysis: First half of the film is OK. Second half is good for the first 45 minutes. But the last 30 minutes is a letdown. The plus points of the film are Bala Krishna, Ankita, songs and few dialogues. The negative points of the film are illogical scenes, graphics, fights and climax. You can watch this film for the performances of Bala Krishna and Ankita and songs. On the box office front, this film has great potential for B and C centers compared to A centers.
Vijayendra Varma links
Muhurat
Audio Function
Press Meet
Photo Gallery
Wall Papers
US Schedules
Release Centers
Jeevi reviews of previous 5 films
Vidyardhi
Leela Mahal Center
Konchem Touchlo Vunte Cheputanu
No
Suryam
Sakhiya
More Reviews