Story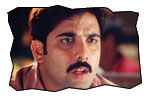 Hari (Tarun) is a happy-go-lucky youngster. His family is in big financial trouble as they need around Rs. 10 lakhs. Hari happens to save a factionist Durga Devi (Lakshmi) from her rival gang. Durga Devi gives him some money as a token of gratitude. She offers to give the entire amount he needs if he successfully brings back her daughter Chandana (Nauhid) from Swiss. Chandana prefers to stay in Swiss than her faction-ridden homeland. Hari travels to Swiss, falls in love with Chandana and also makes sure that Chandana also falls in love with him. They travel back to India. Once he hands over Chandana to Durga Devi, Hari realizes that Durga Devi cheated him. Durga Devi wants to take revenge on her faction rival and also Chandana's father (Raj Kumar) by getting her son married to Chandana. The rest of the story is about how Hari saves Chandana from the clutches of Durga Devi and teaches Durga a lesson.
Artists Performance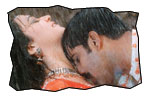 Its nice to see Tarun on screen after a gap of almost a year. He did extremely well as the casual and shrewd teenager. At the same time, he is very tender in emotional scenes. Tarun tried mss steps in last song of this film. Heroine Nauhid is charismatic in looks department and is adequate in histrionics aspect. There is ample skin show from heroine in this film. Lakshmi lived up to her reputation of fine villainess. Ranganath is adequate. Ali is entertaining as cabbie of Swiss. MS Narayana as comic cop is ineffective.
Technical Departments: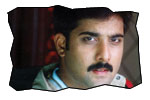 Story - screenplay - direction: Basic storyline by Deenaraj is good. But development of storyline into 2 and half hour narrative is not satisfactory. The screenplay is good in the beginning of the film, but went out of hand in the second half. Direction of the film is good in parts. The aspect of Tarun feeling the presence of heroine in few scenes is good. But Jayant failed to transfer the emotions on the screen into the hearts of audiences.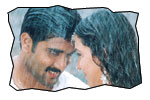 Music: Music is an asset to the film. All songs are good, though most of the tunes give you a déjà vu feeling. Marriage song is entertaining. Rain song is sensuous. And the final mass song is the icing on the cake though the placement is bad. Background music is also good.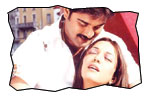 Other departments: Dialogues by Paruchuri brothers are satisfactory. Photography by Jawahar Reddy is good. Artwork by Ashok is OK. Fights by Stun Siva are regular. However, the tactics used by Tarun to ward off evil guys are interesting. Production values of new banner Suryadaya are excellent.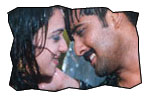 Analysis: The beginning of the film is good. The love episodes in Swiss are not interesting enough. Too many twists and little substance make the second half a let down. The plus points are Tarun and music. The minus points are contrived screenplay in second half and lack of emotional appeal. Over all, it is a disappointing film.
Sakhiya links
Photo Gallery
Audio Function
Muhurat
Trailer
Jeevi reviews of previous 5 films
Sundarangudu
Kaani
Chanti
Yuvasena
7/G Brindavan Colony
Swarabhishekam
More Reviews