Story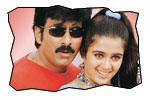 Chanti (Ravi Teja) is one of the top notch performers in Indian military. Chanti visits his hometown for the funeral of his father Madhava Rao (Ranganath), an ex-military officer. Chanti has a blind sister (Revathy) to take care of. He decides to stay for a while and marry off his sister. He has a land of 5 acres. This land would become a block in the proposed road leading to the sugar factory that the local MLA (Atul Kulakarni) acquires. Chanti refuses to sell off his land as it has sentimental value; since his father was buried in that place. This incident leads to a war between Chanti and local MLA. Chanti marries off his sister to his colleague at military (Raja Ravindra). Chanti's brother-in-law gets killed by the MLA. Then it is revealed that Chanti's father was also killed by the same MLA. The rest of the story is all about how Chanti takes revenge on him.
Artists Performance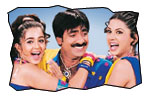 Main Leads: Ravi Teja is good as the man who is caught between the tug of war with MLA and the responsibility of being a big brother. Charmy's character in this film is an extension of what she has done in 'Sri Anjaneyam' film. She is good as 'naatu' lady with her peculiar mannerisms. Sunitha's (nobody guessed that dubbing was done by Sunitha) dubbing also complements the roughness in her characterization. The debutant actress Anjali is adequate. She does major exposing in this film as if to dominate aggressive characterization of Charmy.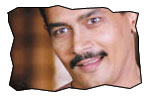 Others: Atul Kulakarni is competent for the role of villain, but his characterization is not strong enough to exploit his histrionics. Revathy is fair as the sister of Ravi Teja, except for her accent of calling her brother as 'Anya' instead of 'Annayya' all the time. Subba Raju imitates Ravi Babu (from Murari film) to the core. Raghu Babu, Benarjee, Raja Ravindra and Malladi Raghava are satisfactory. Ranganath is ideal for the role he did.
Technical Departments: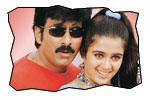 Story: Story of the film is old fashioned. It is about a son taking revenge on the killers of his family (father and brother-in-law). Hero coming to know about the cause of his father's death just before the climax has come in earlier films like Gang Leader. The format of villain accompanied by a Police officer, a MRO and a Lawyer goes back to the era of 70's and 80's when Rao Gopal Rao was at his peak.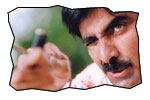 Screenplay - direction: Screenplay of the film is flat. Direction leaves a lot to be desired. The director fails to narrate the film with objectivity. There is confusion about hero's objective and goal, right from the beginning, to the scene before climax. This entire period is utilized for the romantic interludes of hero with two heroines. The establishment of animosity between villain and hero; the villain's soft orientation towards hero does not jell with the establishment of main point of the film. Sobhan followed the style of Krishna Vamsi in doing characterizations for heroines.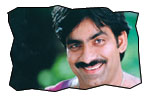 Other departments: Music by Sri is average. Cinematography by Prasad Murella is adequate. Dialogues are so so. There are many double entendres mouthed by Charmy in this film. Costumes by Brinda are fair. Editing of the film is ordinary.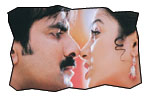 Analysis: First half of the film is flat. Same goes with second half as well. The climax is bit different compared to the rest of the film. The main drawback of the film is the lack of clarity in narration and screenplay. This film is a disappointment from Ravi Teja who is branded as minimum guarantee hero for giving ample entertainment to audiences and decent profits for producers.
Chanti links
Photo Gallery
Wall Papers
Press Meet
Jeevi reviews of previous 5 films
7/G Brindavan Colony
Swarabhishekam
Apparao Driving School
Marrichettu
Aptudu
More Reviews